By Expedia Singapore, on November 29, 2019
Best Things to do in Florence: Sights, Shopping, Food & More!
I love flying into regional European airports like Florence (Firenze). There are no baggage or immigration delays. You can check into your hotel and start checking off the things to do in Florence within an hour of landing.
On my KLM flight from Kuala Lumpur to Florence via Amsterdam, I read up on the city. Between the 14th to 17th centuries, Europe transitioned from the Middle Ages to modernity. This period, known as the Renaissance, marked advances in art, culture, music, architecture, education, and thinking.
Wealthy families like the Medici's funded thinkers, artists, and painters like Leonardo da Vinci and Michelangelo. As such, the city's art, music, sculpture, and grand buildings evolved.
Iconic Landmarks

The stunning Duomo dominates the city skyline. It seems that all downtown roads and alleyways lead to the Piazza del Duomo.
Work started on the cathedral in the late 13th century and it took 150 years for most of the work to be completed. It was never finished, however. Instead, the façade, which looks uniquely different from the orange-tiled dome, was added in the 19th century.
The Duomo has "timed entrances" so visitors can pay a surcharge online to guarantee a specific entrance time. After seeing the long queues into the dome, however, I decided to set on foot to explore the city instead. Being outside on the piazza was mesmerising enough.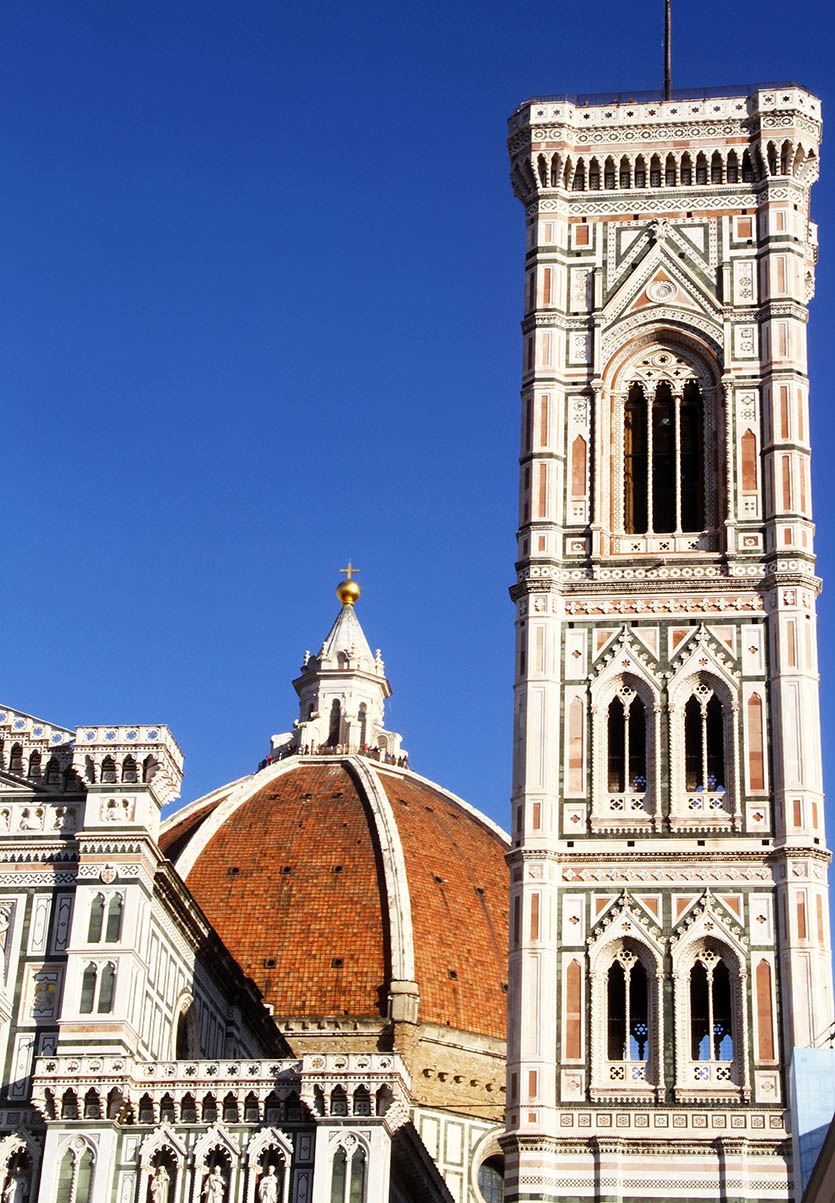 A river also runs through Florence so using the Duomo and the River Arno as landmarks. You can't get lost here even with its many narrow alleyways in this ancient city.
The river starts in the Apennines and flows for 240 km through Florence and Pisa before emptying into the Tyrrhenian Sea just beyond Pisa. It has many moods depending on the weather and the time of day. The afternoon is the best time to visit – the heritage buildings on its eastern bank provide a picturesque reflection.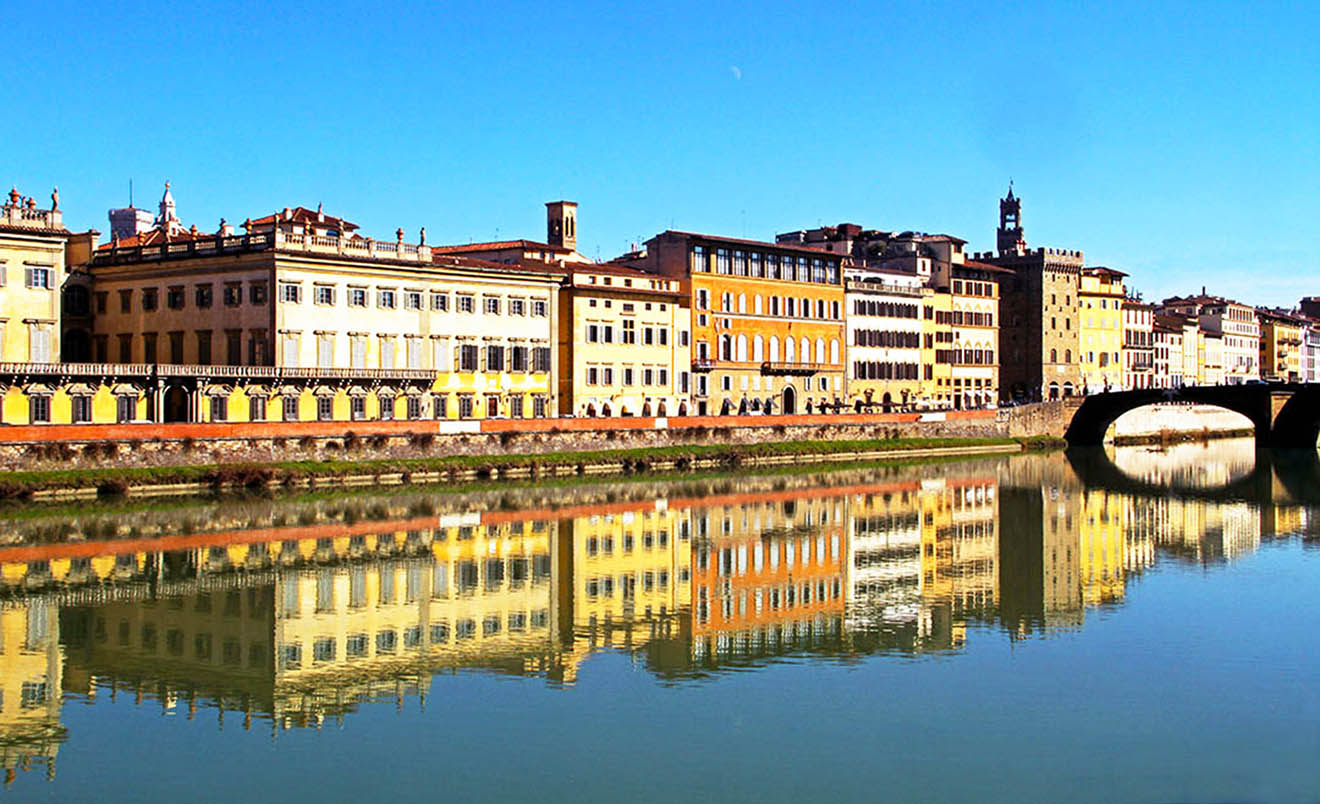 Rivers, of course, mean bridges. In the case of Florence, there are several iconic and historic bridges. The most famous one is the pedestrian-only Ponte Vecchio.
This unique 14th-century structure, once dominated by butcher shops, has been home to glittering jewellery shops for centuries. The pedestrian-only bridge is popular with tourists who mostly cross here to access the Palazzo Pitti (Pitti Palace) on the western side of the river.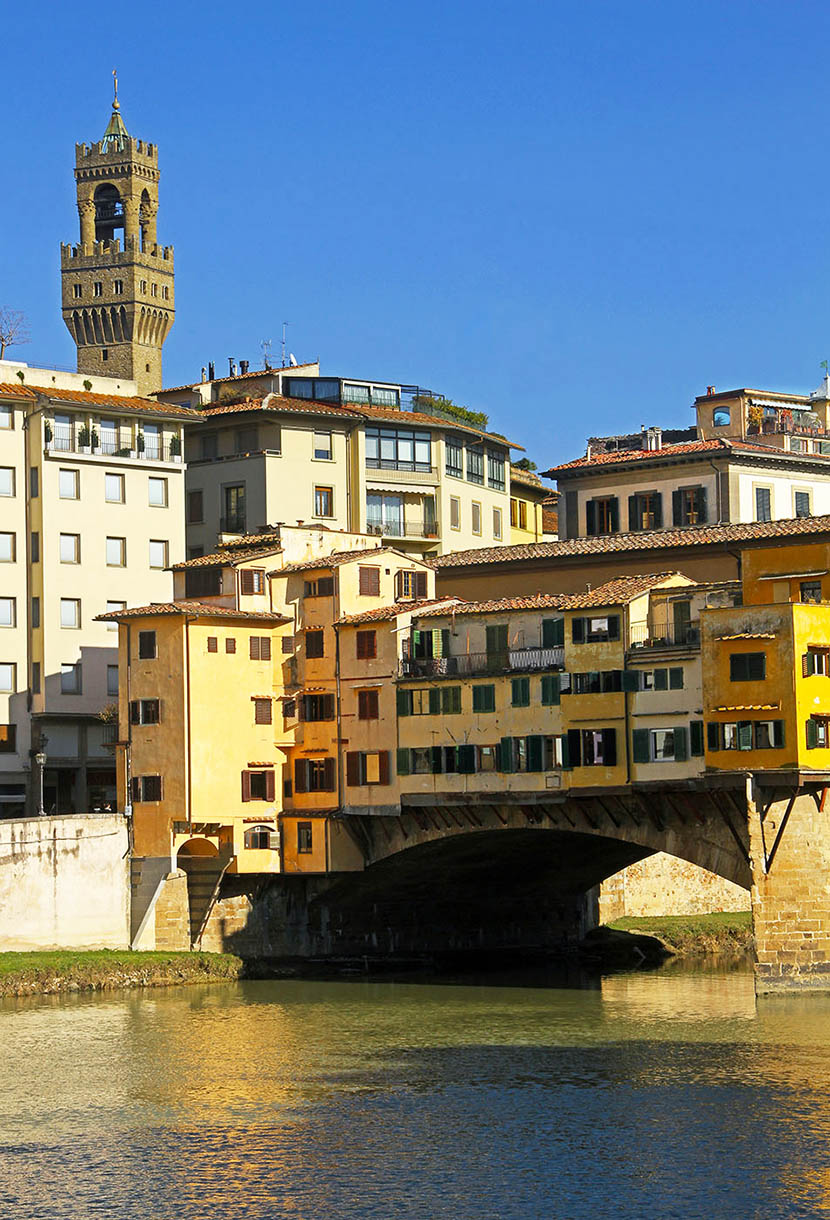 Work on the Palazzo Pitti commenced in 1458 and it remained in the hands of the ruling family until 1919. Visitors pay an entrance fee to admire the grandeur of the palace, the art gallery, and the expansive gardens called Giardino di Boboli.
Being as flat as it is, Florence is a wonderful walking city with many open plazas (palazzo) to rest. The world's finest statue, Michelangelo's "David" sits in the Galleria dell'Accademia.
Piazza Ognissanti Firenze is one such palazzo located with a church and some luxury hotels in historic buildings facing the square.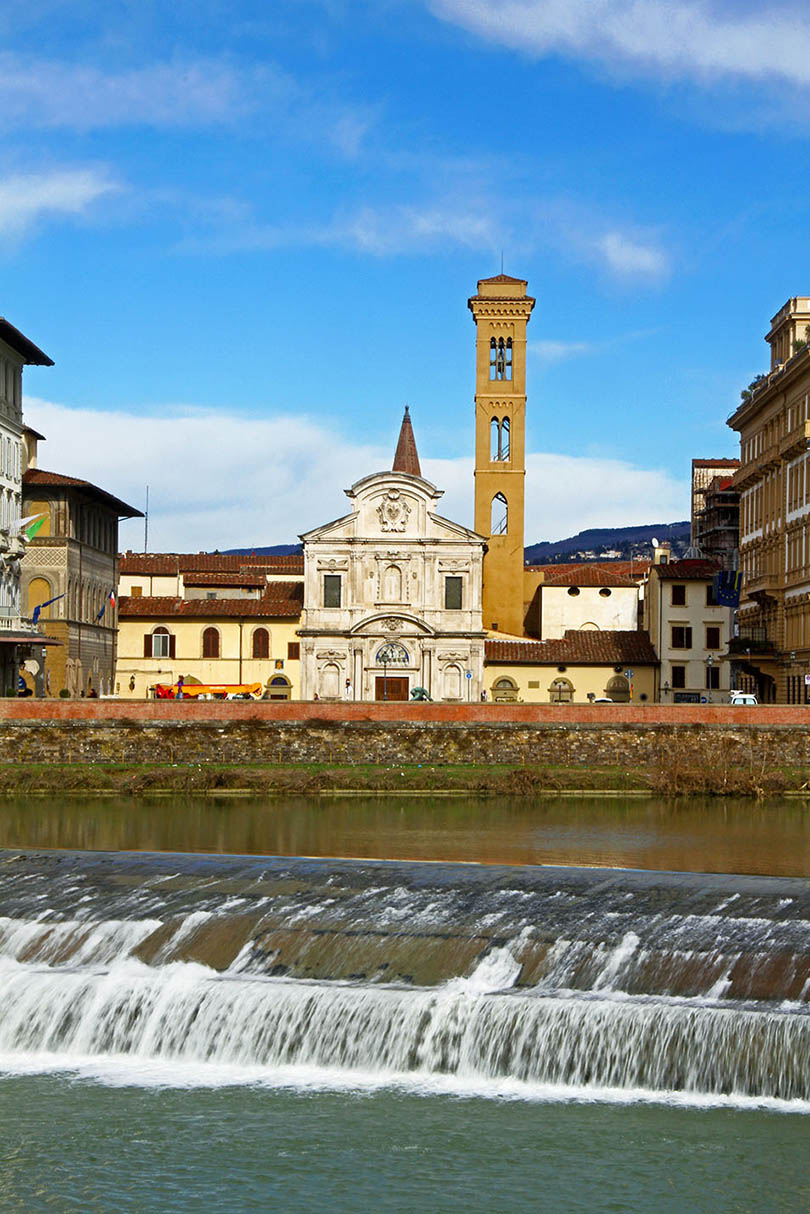 Shopping in Florence

While Firenze is not Milan, several leading fashion designers first opened here and there are many tempting shops and things to buy. Firenze was the birthplace for luxury Italian brands such as Salvatore Ferragamo, Gucci, and Emilio Pucci. The flagship stores for first two brands even have museums attached to them.
Renowned for its leather, many shops sell them at competitive prices throughout the city. Gloves, bags, and shoes are items to seek out especially when 50%-off sales are on.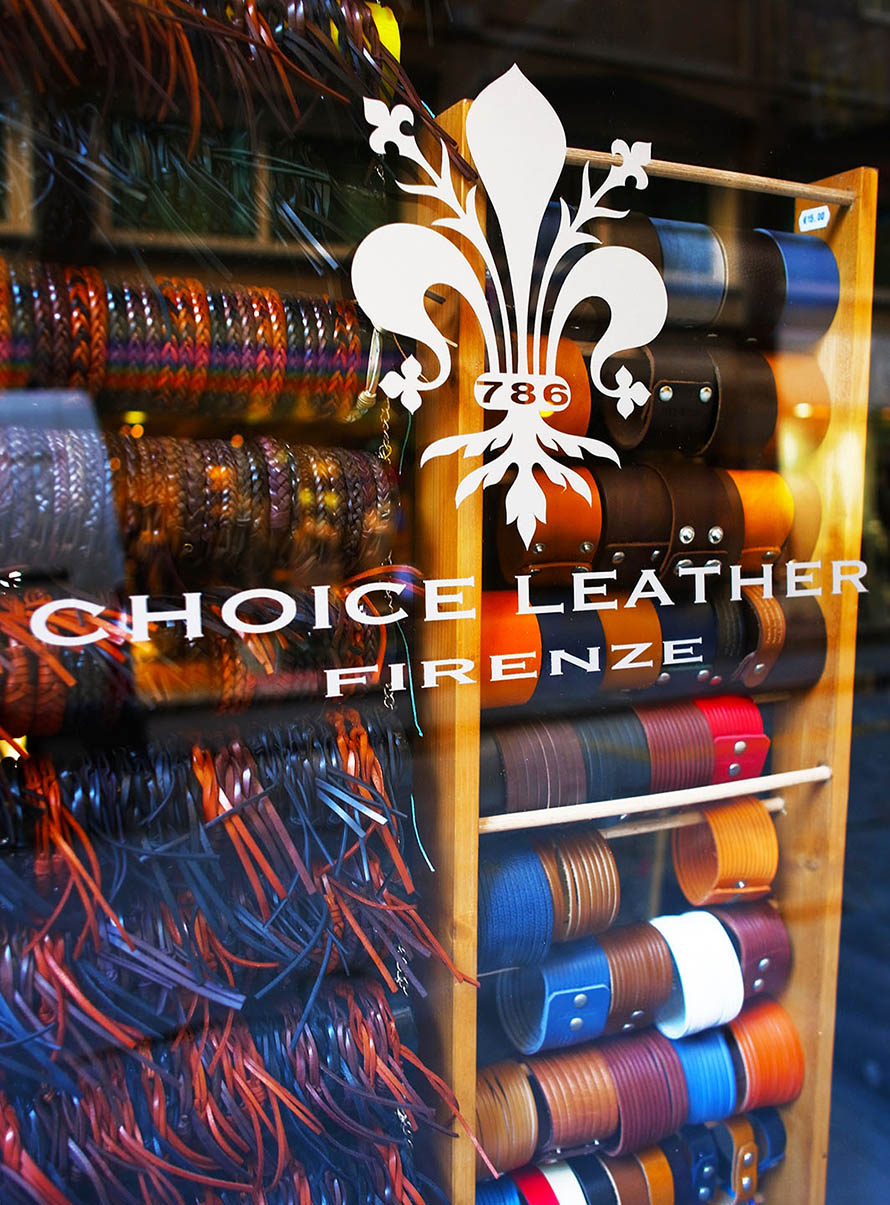 There are several markets to visit. The Mercato Centrale is the best-enclosed space for fresh produce. You can find local olive oil, Tuscan cantucci (almond biscuits), chestnuts, finocchiona and mortadella (cured meats), panforte di Siena (fruit and nut cake), pecorino cheese (made from sheep's milk), saffron, and prosciutto (cured meat) here. It is open from 7:00 am to 3:00 pm between Monday to Friday and until 5:00 pm on Saturday.
On the second Sunday of the month, a trash and treasure market is held on Piazza Santo Spirito in front of the church. It attracts locals and visitors seeking vintage products, accessories, music, books, and some new items like olive oil soaps and shampoos made locally. The bars and restaurants lining the piazza and adjoining streets do a lively trade.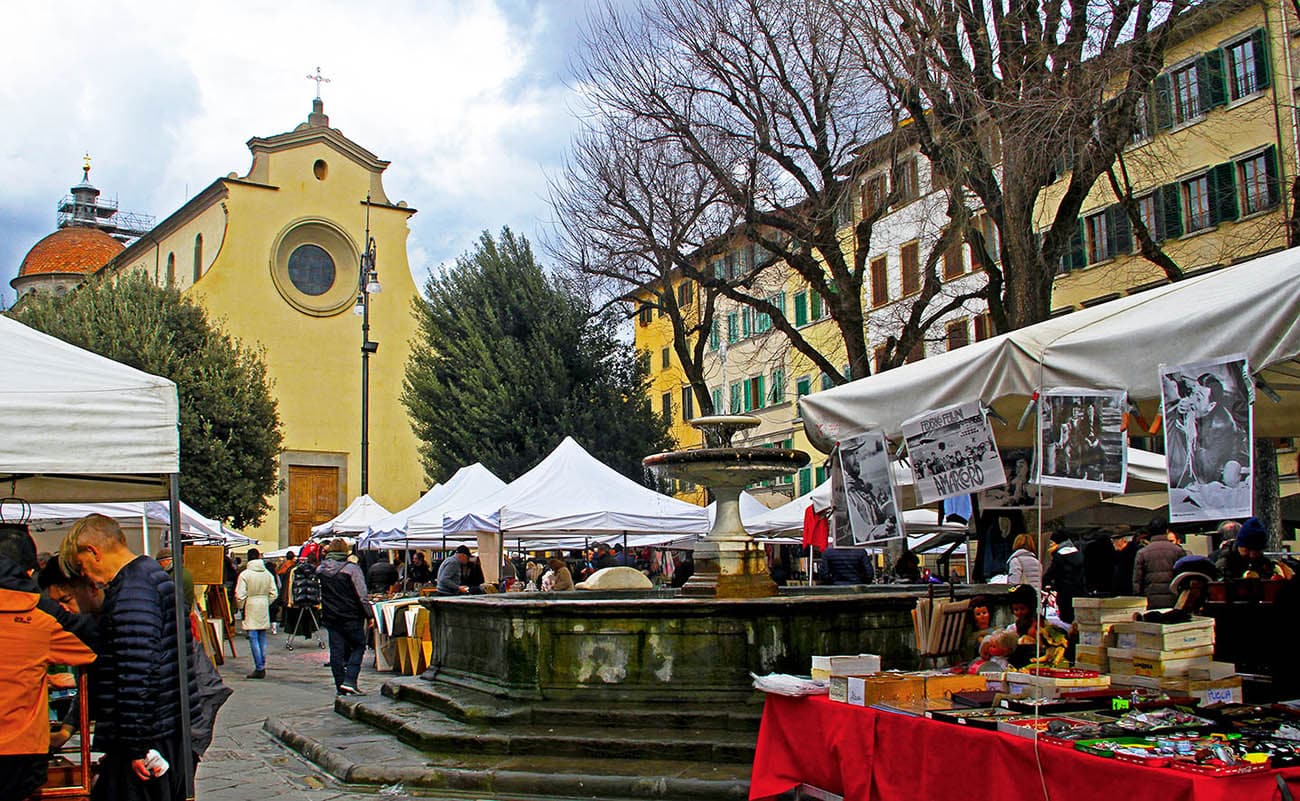 Eataly

Italian food has to be one of the world's greatest culinary traditions. While the finest dishes are those created in each region of the country, many traditional dishes are found everywhere. In Florence, it is possible to dine on pizza, risotto, pasta, and gelato while washing it down with the finest coffee (single shot espresso) and wines.
There are restaurants, bars, pastry shops (pasticceria), ice cream shops (gelateria), and cafés (caffetteria). Prices are very reasonable considering it is Europe with many offering set menus that may include a glass of local Chianti wine.
Casual restaurants such as Eataly (Via De'Martelli) offers a good venue to watch the world pass by over fresh pastries, pizza, sandwiches, and coffee. Nearby, Caffeteria Il Bottegone (Via De'Martelli) serves similar fare.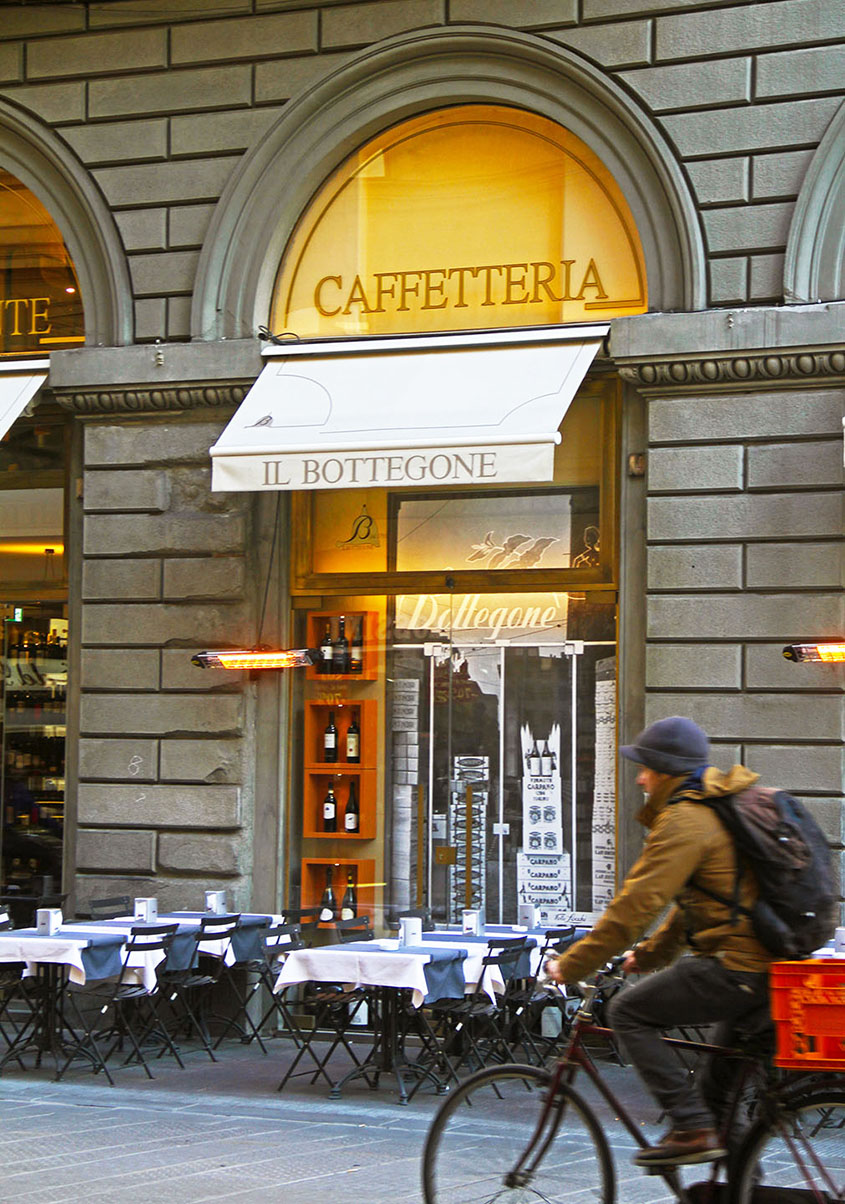 Via De'Guicciardini in front of the Palazzo Pitti is a good precinct with several Italian restaurants here. Dishes like risotto are normally included on most menus.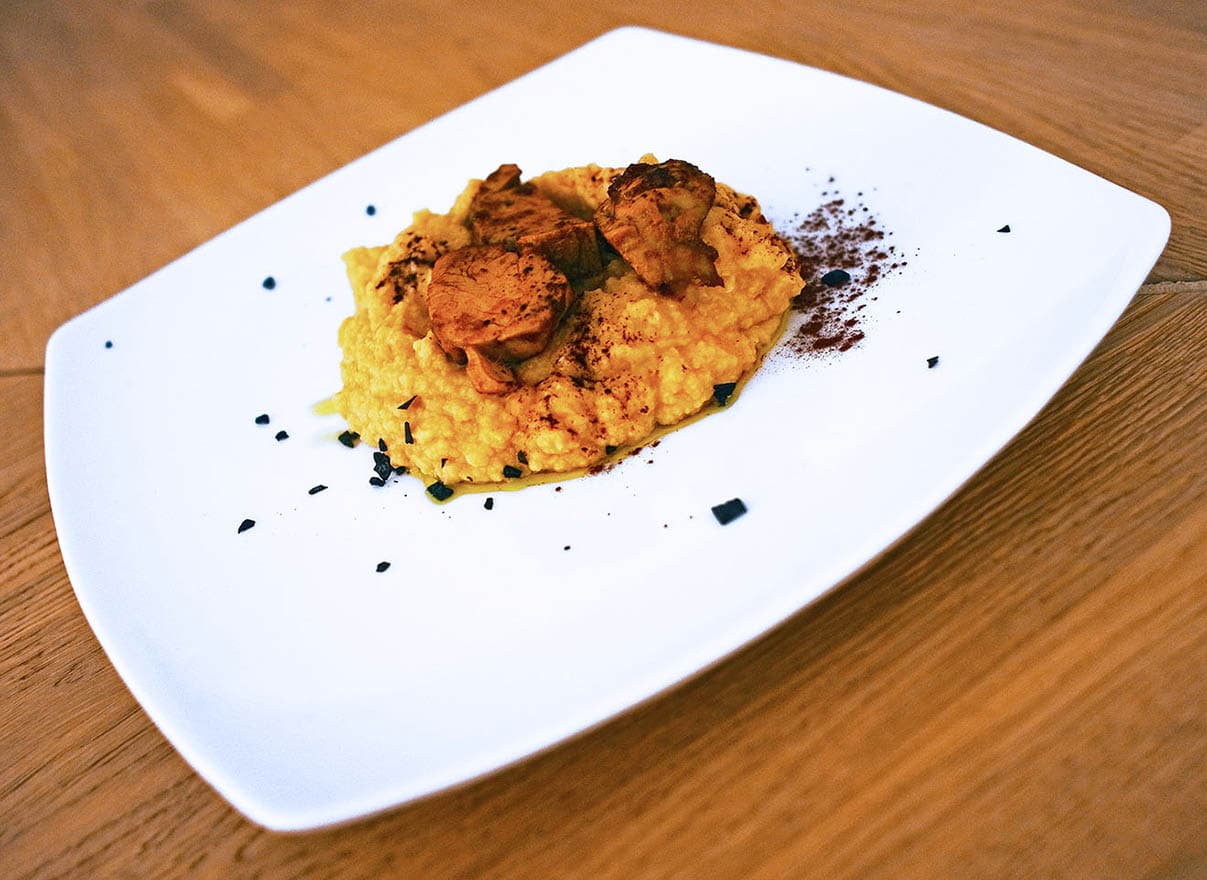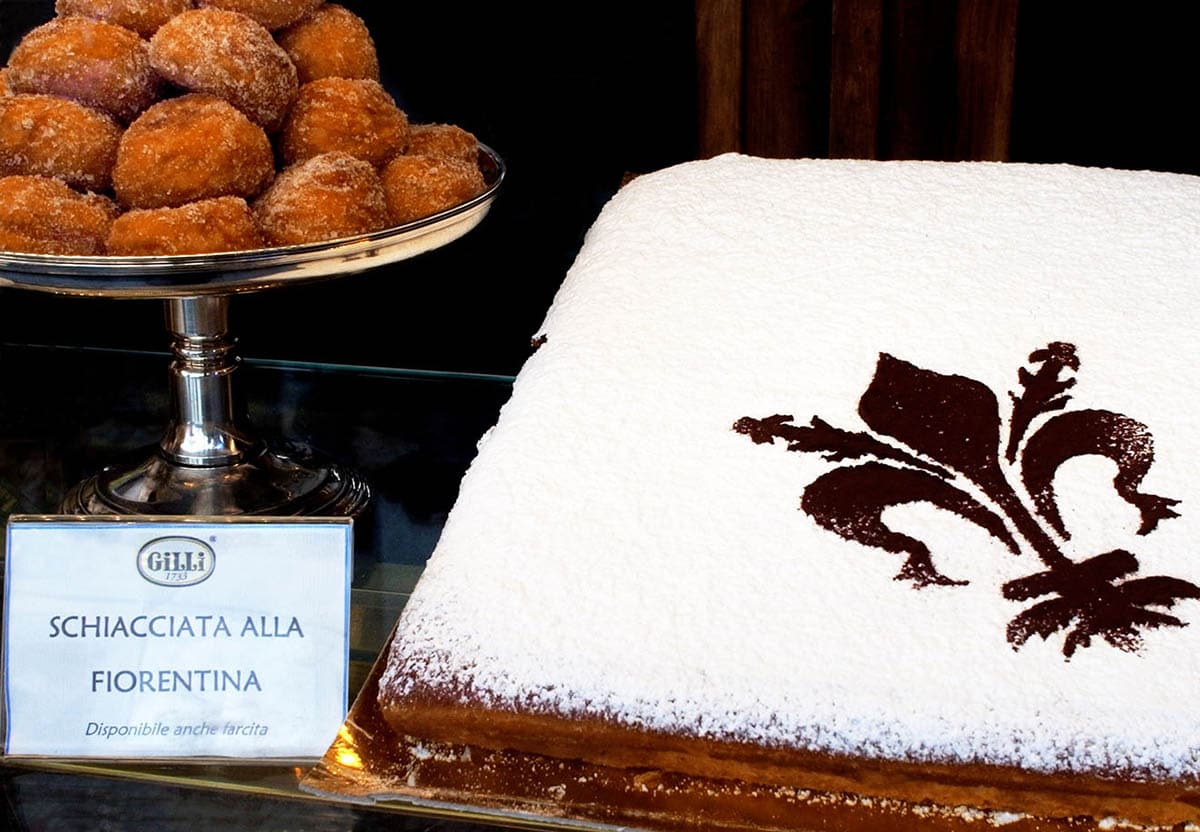 Il Magazzino is a speciality restaurant serving delicious, lesser-seen cuts of meat such as beef tendons and tripe, all complemented by an impressive and competitively-priced wine list.
Chianti is the best-known red wine from Tuscany and made from at least 80% Sangiovese grapes. A medium-bodied wine, the Chianti is a fine accompaniment to many local dishes especially the favourite beef dish of bistecca alla Fiorentina.
Bistecca alla Fiorentina is a classic dish in Firenze and normally sold by weight. Great for a hungry solo diner or a small group and sold in many restaurants. If you're looking for one of the best ones, you can find it at Il Pinola (Via Ponte Alle Mosse).
Chianti Classico has ratings that range from IGT up to the finest wines classified as DOC and DOCG from around Florence and Siena. While wines have been made here for centuries, the name Chianti was first used in 1398 but only officially recognised in 1716.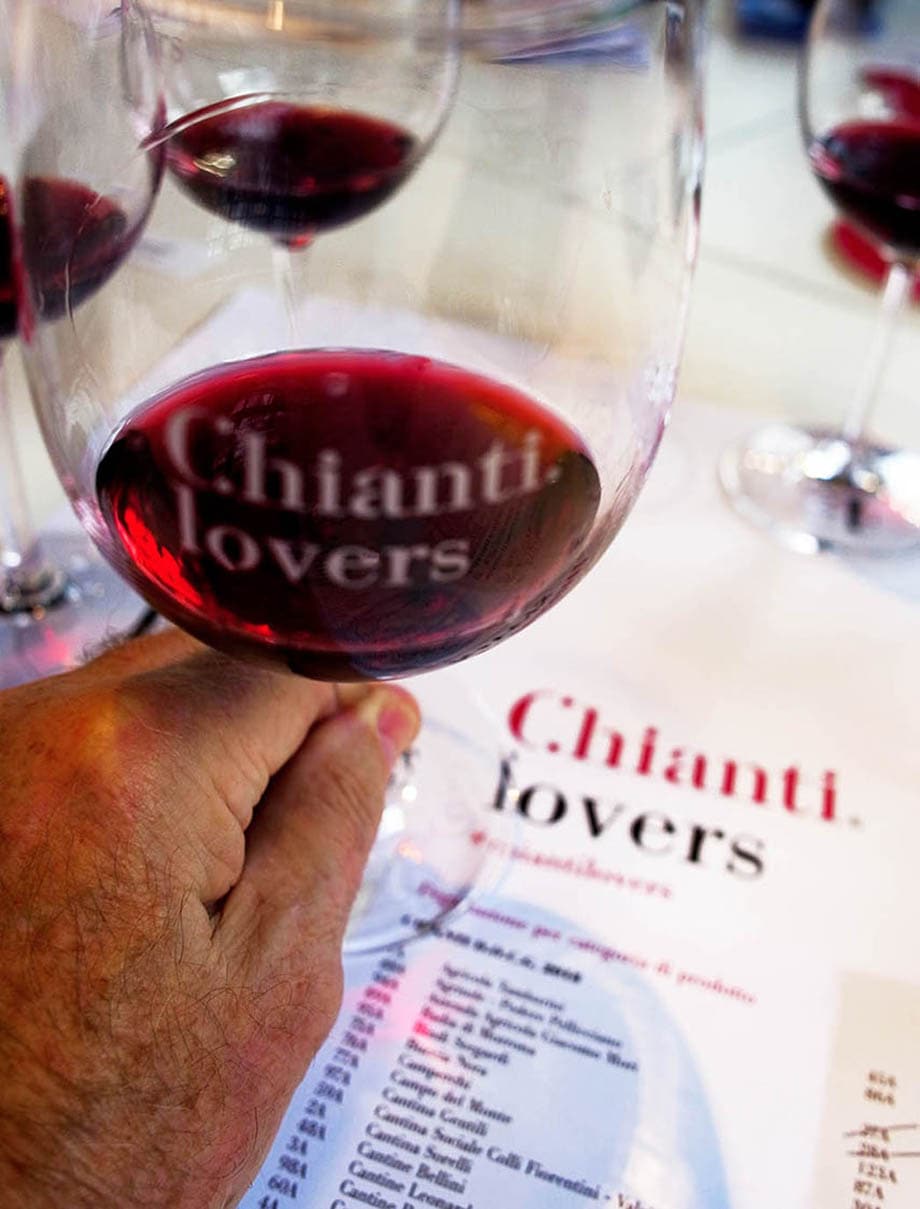 Other famous wines from Tuscany include Vino Nobile di Montepulciano and Brunello di Montalcino.
Firenze is also the home of the Negroni cocktail (gin, vermouth, and Campari). The best place to enjoy it is Harry's Bar (Lungarno Amerigo Vespucci), where it was conceived.
Indian, Middle Eastern/African, and Chinese food are available with some restaurants being halal.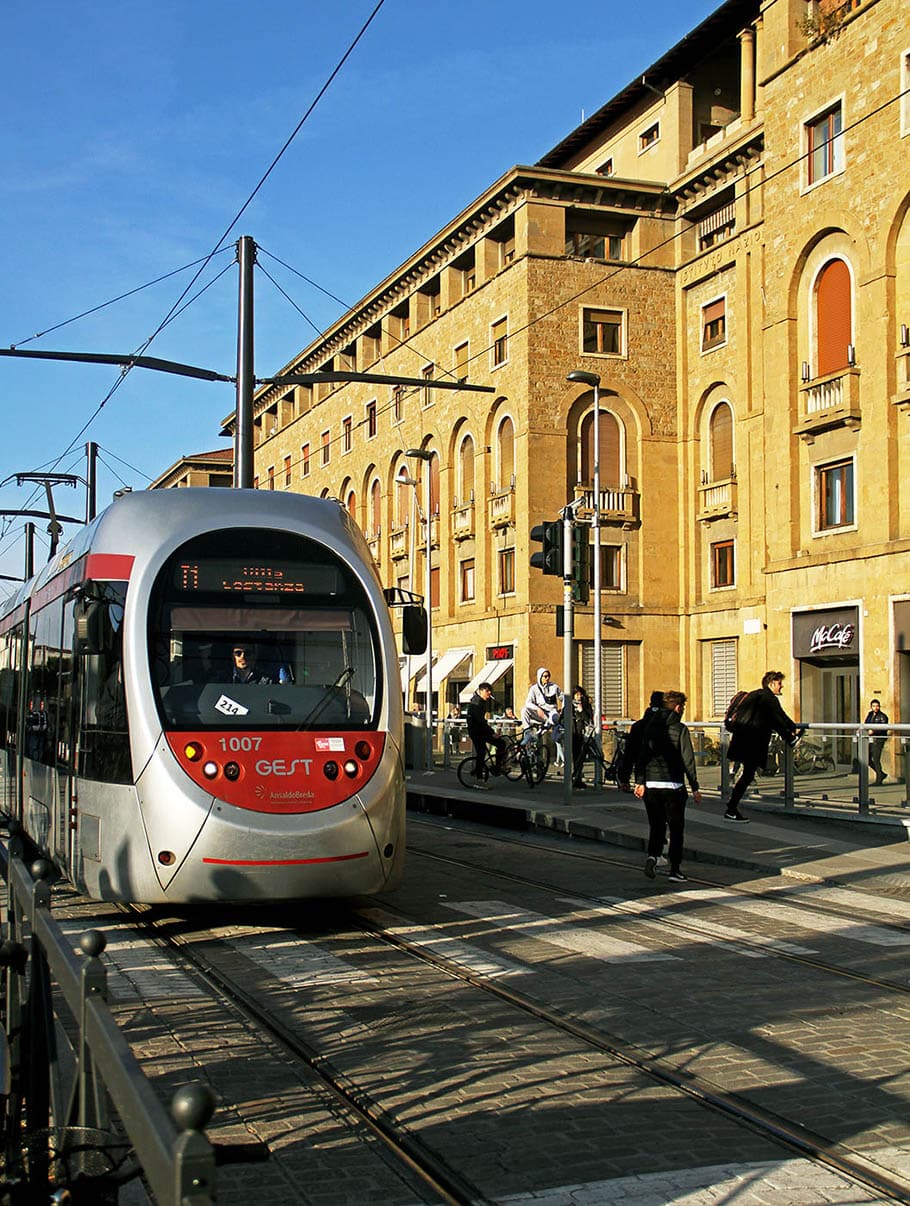 Where to Stay

Hotel chains like The Westin Excelsior and St. Regis Florence are located in repurposed heritage buildings close to the city centre. Hotel Lungarno on the western bank of the River Arno is arguably the best-located hotel.
Newer and more modern hotels are located a little further away from the city centre with the AC Hotel by Marriott Firenze being an excellent hotel that is just a brisk 20-minutes' walk from the Duomo.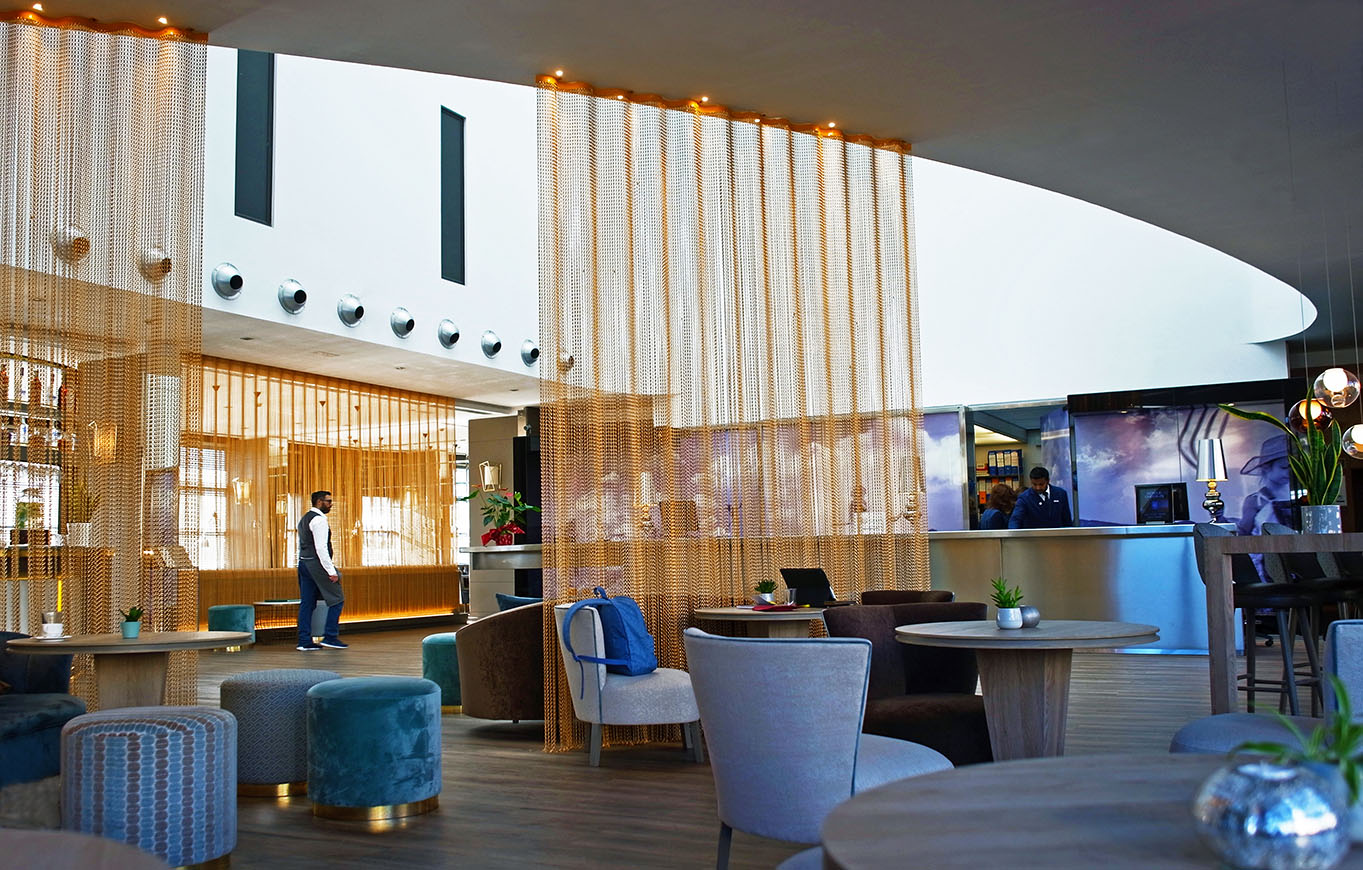 Fly into Florence on KLM Royal Dutch Airlines from its European hub of Amsterdam. Once you get there, scenic renaissance architecture and pieces of art will immediately greet you. There are many reasons why it should be a part of your travel bucket list. So don't wait any longer and book your flight because Florence awaits!
[tabs]
[tab title="Where to Stay" icon="entypo-suitcase"]
[button style='blue' icon="entypo-suitcase" url='https://www.expedia.com.sg/Florence-Hotels.d1222.Travel-Guide-Hotels' fullwidth='true'] Find Hotels in Florence [/button]
[/tab]
[tab title="Let's Go!" icon="entypo-flight"]
[button icon="entypo-flight" url='https://www.expedia.com.sg/Cheap-Flights-To-Florence.d179893.Travel-Guide-Flights' fullwidth='true'] Flights to Florence [/button]
[/tab]
[/tabs]