By Rebecca Wurd, on March 21, 2016
Park Lane Hong Kong Hotel Review
The Park Lane Hong Kong, a Pullman hotel, has been a favourite in Causeway Bay for over 40 years. In 2015, a big redesign project injected new life into the hotel with a fresh, rejuvenated look, evident from the moment you arrive at the lobby. Millennials would feel very welcome here, and regulars will find new perks.
Lobby | Rooms | Location | Food | Brunch | Dinner | Amenities | Verdict
Welcome to The Park Lane
The lobby is designed to welcome global citizens. To offer travellers immediate comfort and connectivity no matter what time they arrive. (There is a fancy coffee station so guests can help themselves to a java jolt at 4am).
The savvy modern design definitely appealed to me, particularly as the interpretation of 'modern' was more than a stark white minimalist space. I really liked the mix of wooden accents with visual art in the ambient lighting. The giant screen in the lobby with entrancing visual art (seriously, I was entranced enough to hope check-in would take longer so I could watch the whole loop) makes it clear the hotel is moving far away from fuddy duddy. But most of all, I loved that they used luggages as part of functional design!
Park Lane says its revamp was aimed at "rejuvenating" and catering to "beautiful nomads". As a millennial who identifies as a traveller, I say, success!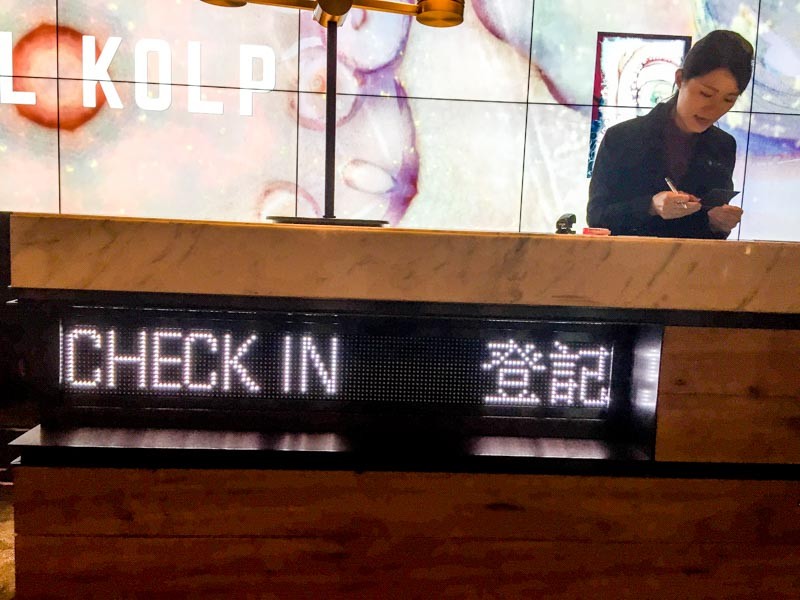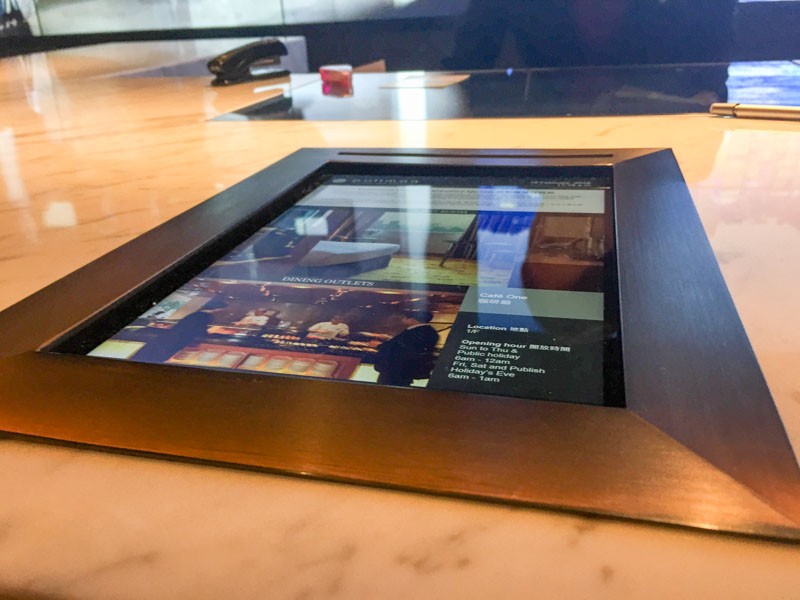 If you need help during your stay, the smartly-dressed concierge are ready to help. After a long day out, I asked them if there was any chance of getting a foot massage this late at night. Without hesitation they directed me to a foot reflexology place a short walk away and there I got the best foot massage ever!
My Park Lane Hotel Room
I was rescued quickly from managing my luggage as I stepped out of the cab then swiftly checked-in. I was pretty impressed by how many little details they have around the check-in counters to keep you from getting bored or fidgety.
My room had a good wide view overlooking Victoria Park with skyscrapers in the background. It gets pretty at night as the city's lights take over. On Sundays, you can see lots of people gathering for a relaxing picnic or a bit of yoga in the park.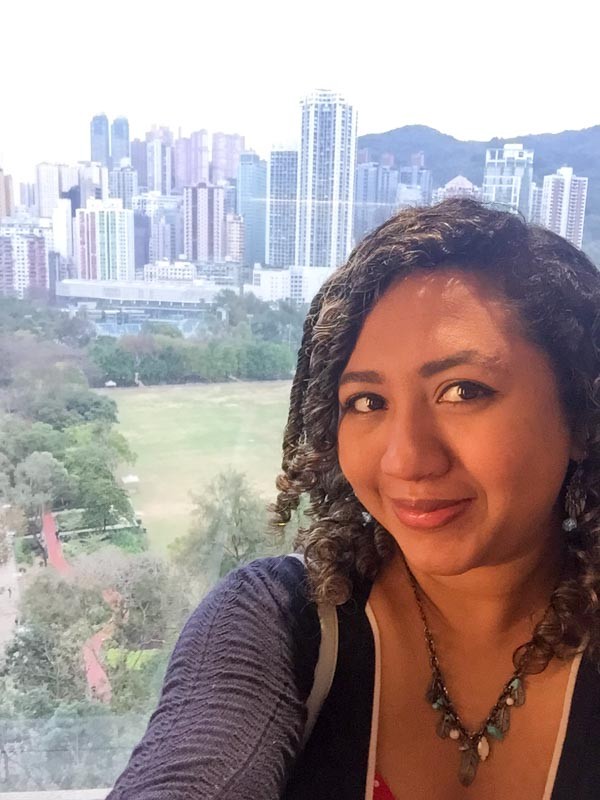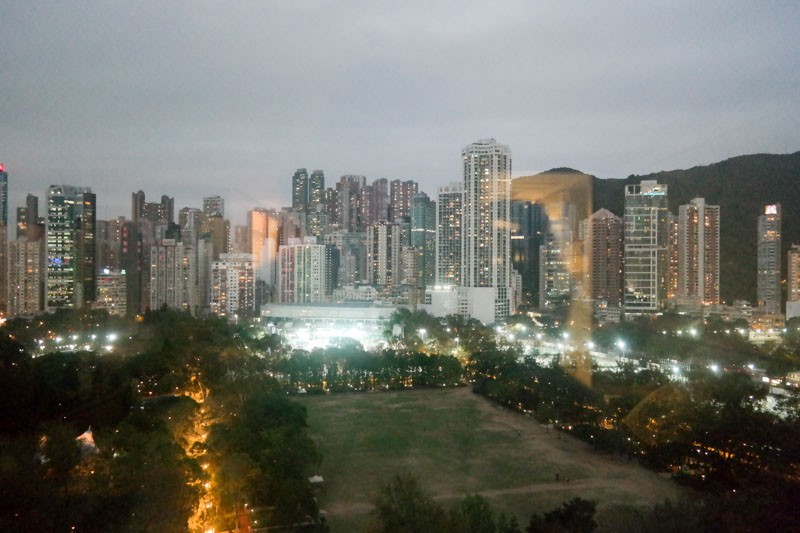 I'm always a fan of rooms that have a glass window into bathroom because it opens up the room much more.
Okay okay, the actual reason is I can watch TV while I'm in the tub. Holiday what!
The bathroom has just the right amount of space. Signature brand of designer toiletries. Fluffy towels and 2 bathrobes.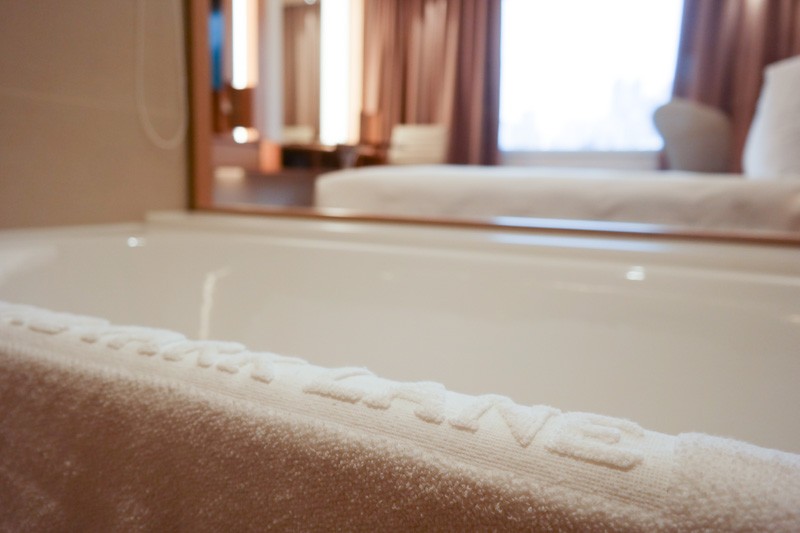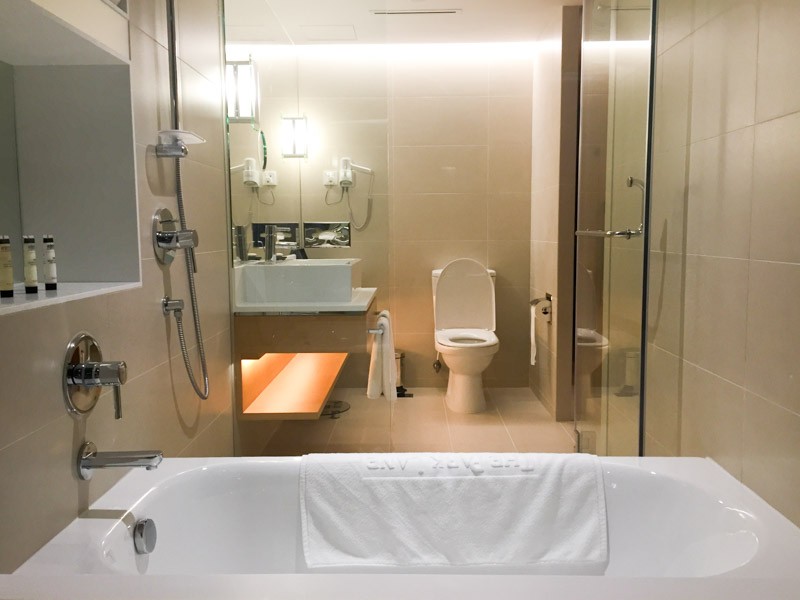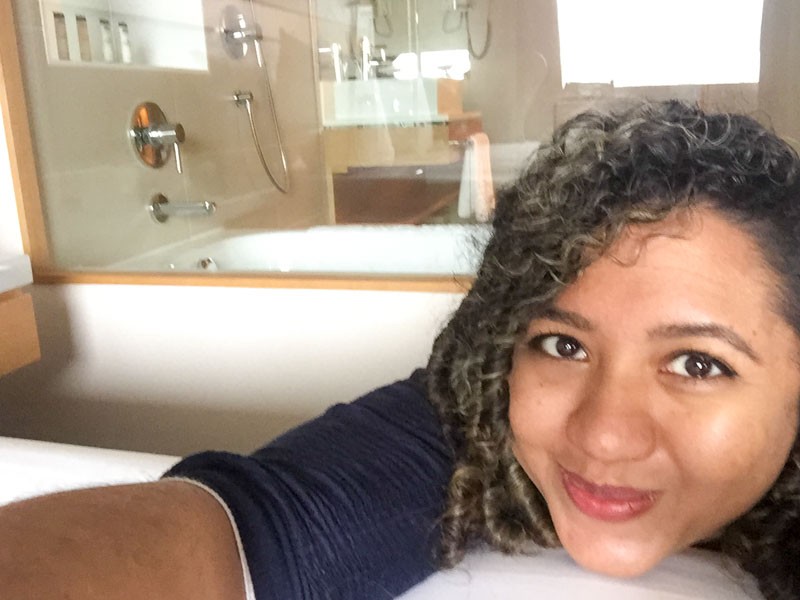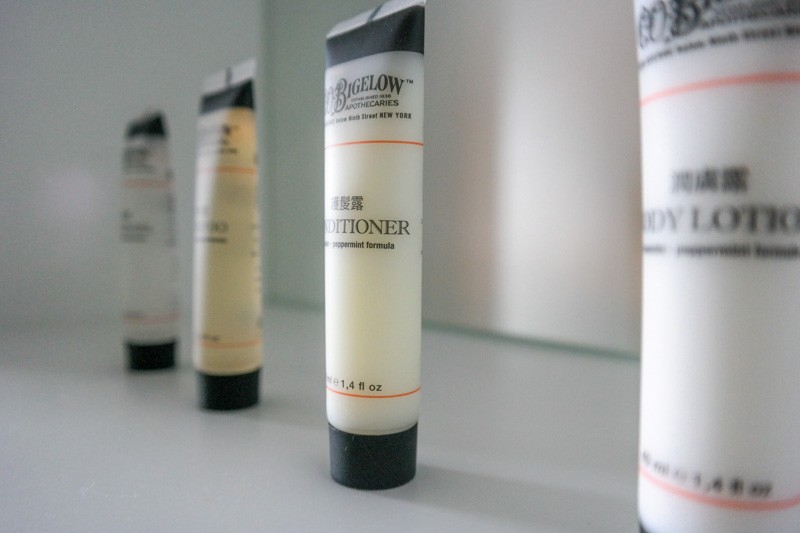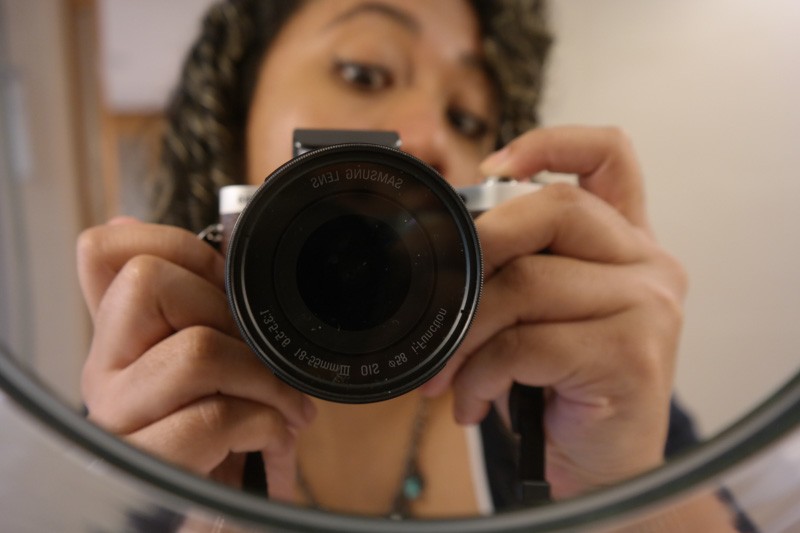 Inception: mirror within a mirror. Great for putting on eyeliner! 
The bed was heaven. Lots of space, lots of pillows, lots of natural light and very comfortable. It was no problem falling asleep.
There are room-controls within reach at your bedside. My only complaint is the power socket height was too close to the table so I couldn't charge any USB devices there. I had to use the socket under the TV.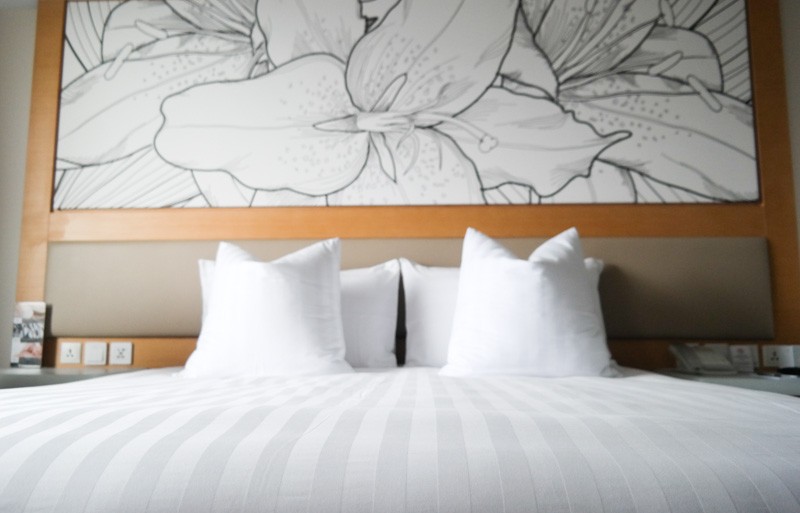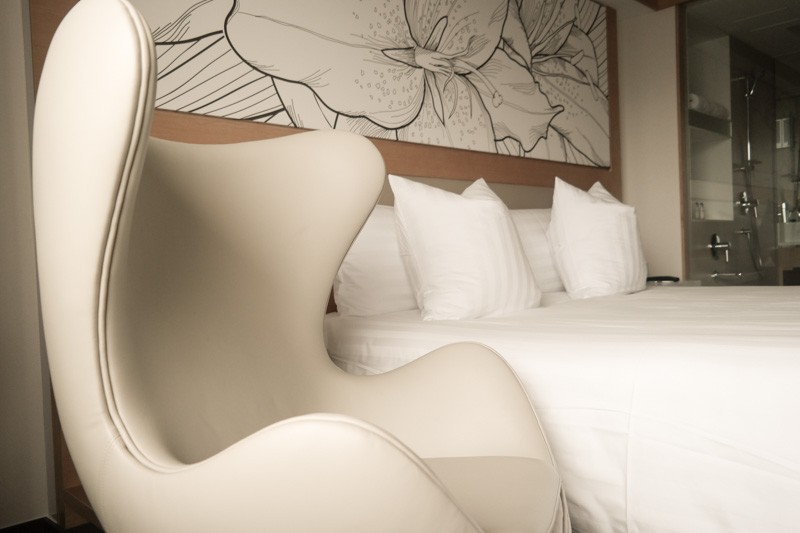 You get a widescreen TV with a fair selection of channels.
Room service was quick to respond when I rang to let them know my iron wasn't working well. They brought me a new one quickly and it did the trick.
I liked that the little round table on the side doubles as desk or dining if you order room service. Otherwise it tucks away unobtrusively. I pulled it toward the bed so I could get sit cross-legged in comfort while getting some work done.
To check out the other room types available, including suites and family-friendly rooms, have a look online at Expedia.com.sg.
[button style='blue' url='https://www.expedia.com.sg/Hong-Kong-Hotels-The-Park-Lane-Hong-Kong.h26396.Hotel-Information' icon='entypo-suitcase' fullwidth='true'] The Park Lane Hong Kong hotel[/button]
Back to Top
Location: Causeway Bay
The Park Lane Hong Kong is located in Causeway Bay. Yup, that means shopping! Just a few minutes walk to retail stores of a whole series of luxury brands, Lee Garden, Times Square, SOGO department store, Island Beverly Center, Fashion Walk and lots more. Directly across the road is Windsor, which has a SASA – my favourite!
I'm also a fan of the multiple stories of H&M and Forever 21 that stays open till 11pm.
Around the Hotel
The hotel itself is in a mall. The side entrance leads out past an electronics store, a really cool collectibles store, and IKEA in the basement!
Within 5 minutes of the side entrance you'll find HSBC bank, a 24 hour supermarket and a Causeway Bay MTR exit. Super convenient.
In the other direction, I stumbled upon an amazing street. It has lots of great restaurants serving cuisine from different parts of the world and the ambience here is just wonderful. I'm not sure what it's called but it's near Fashion Walk.  I had an absolutely delicious Vietnamese set meal for a decent price at Minh & Kok. Recommended!
The pictures don't do it justice, it's a really nice stretch. It's a good spot to have a nice dinner and evening cocktails. If you fancy drinks, the King Ludwig German restaurant right next to the hotel opens a little later.
Further out in that direction is the foot reflexology place. It's called Big Bucket Footbath & Reflexology. Oh man, it was heaven to have a foot soak and proper foot massage after a long day of walking. It closes at 3am!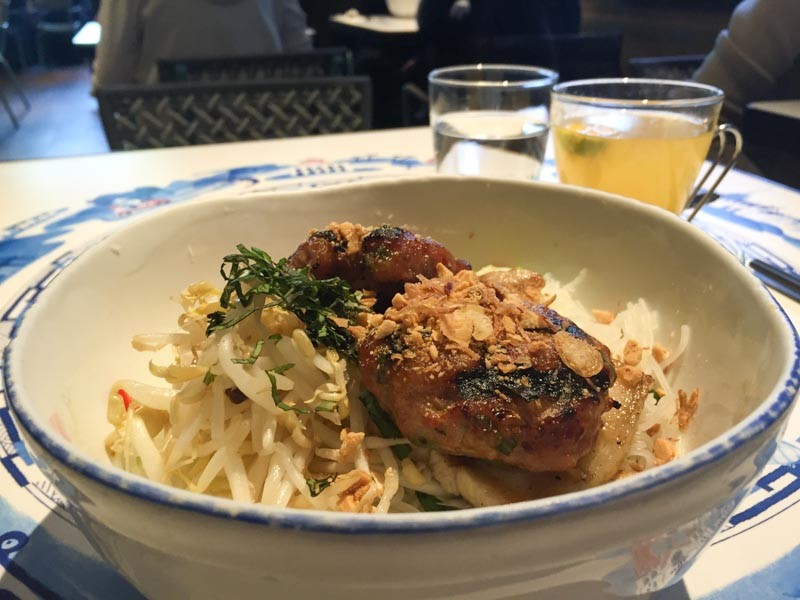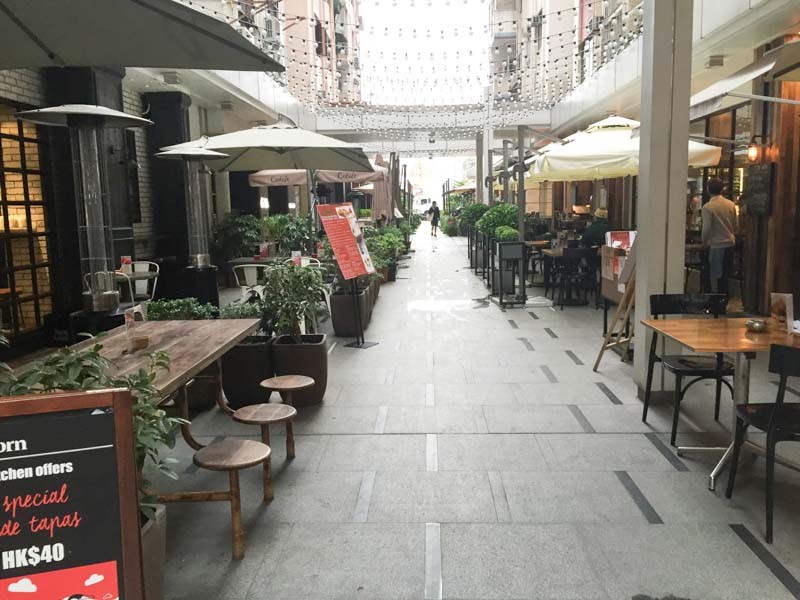 Back to Top
Park Lane for Foodies
Now here's the part that will get Singaporeans interested. There's lots and lots of amazing food to be had at Park Lane Hong Kong.
Afternoon Tea at Ebb & Flow
This will hit the sweet spot for ladies, hipsters and anyone with a sweet tooth. Afternoon tea is served in Ebb & Flow, part of the lobby-lounge. This well-designed open space is very welcoming both as a daytime hangout and nighttime spot for cocktails.
3 of us settled in for high tea which was served on custom-designed tiers. But get this – you get a free flow of freshly-made waffles! Endless waffles? Sign me up!
The waitstaff comes round to top you up with bite-sized, perfectly prepared waffles. I fell in love a little. The waffles are crisp to the bite, but soft and warm on the inside. Coupled with a drizzle of cream or strawberry sauce or oreo cookie crumbs? Absolute delight. (Sorry I was too excited I didn't take a great picture so I'll include the official shot below)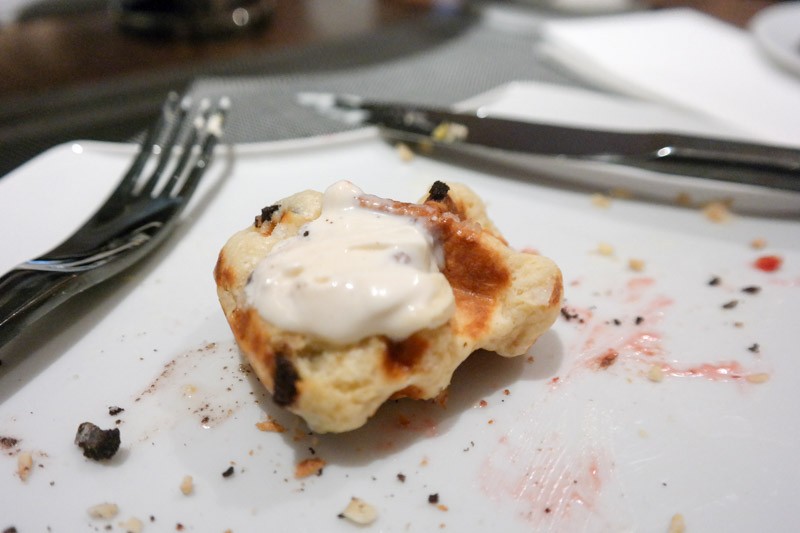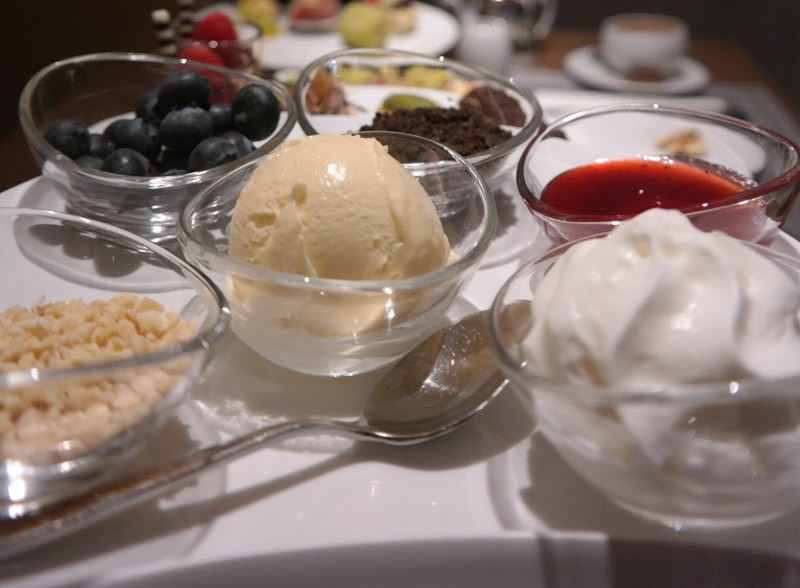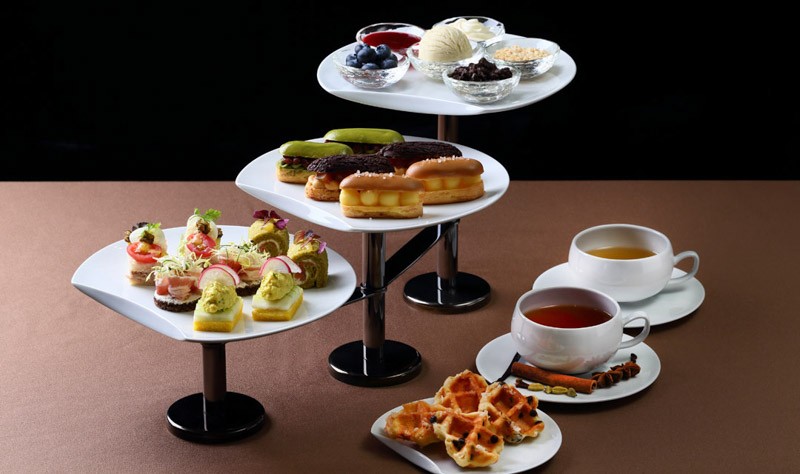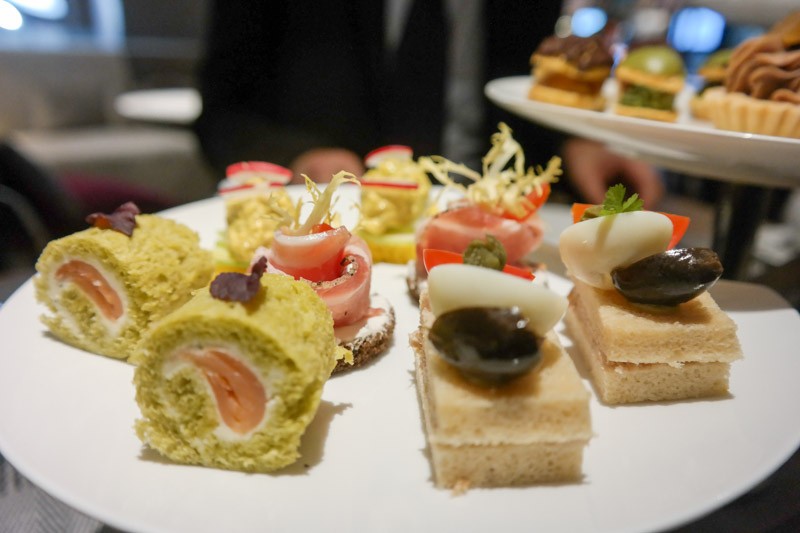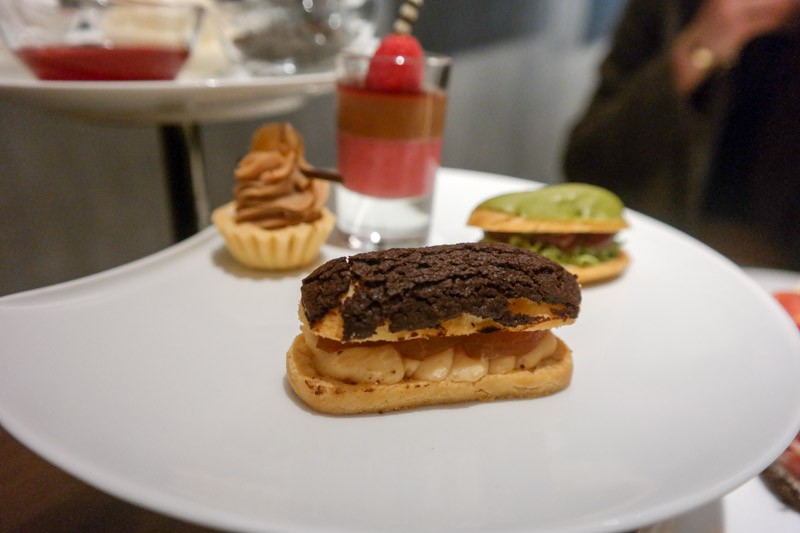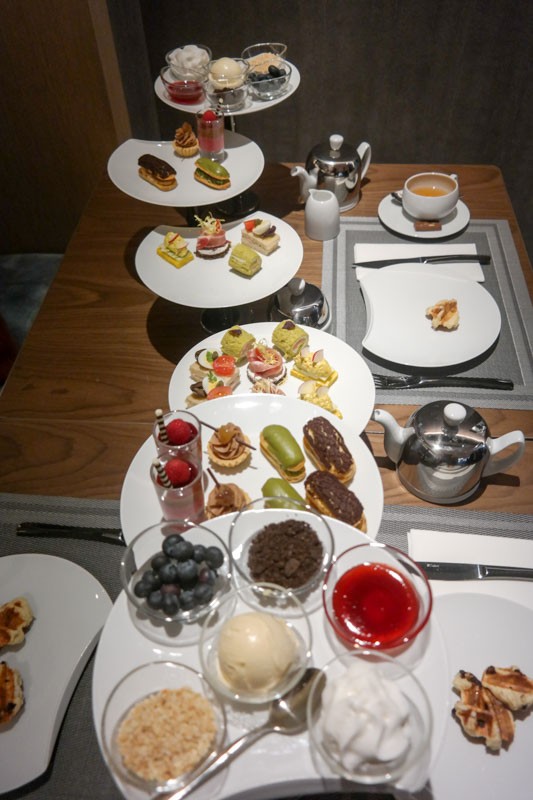 The green tea eclairs are apparently really popular. My favourite would still have to be the waffles though, and that you can add as much toppings as you like.
Ebb & Flow also attracts a lunch crowd and informal business meetings. There's an island in the middle with magazines, ports for your laptop and 2 touchscreen computers that guests can use.
Hipsters will love the modern steampunk coffee machine. Expensive machine, expensive beans and artfully created coffee served in a glass cup. I gave it a go and it did genuinely have a very different taste than regular coffee or even a regular strong brew. If you love coffee or enjoy new flavours, you should try this.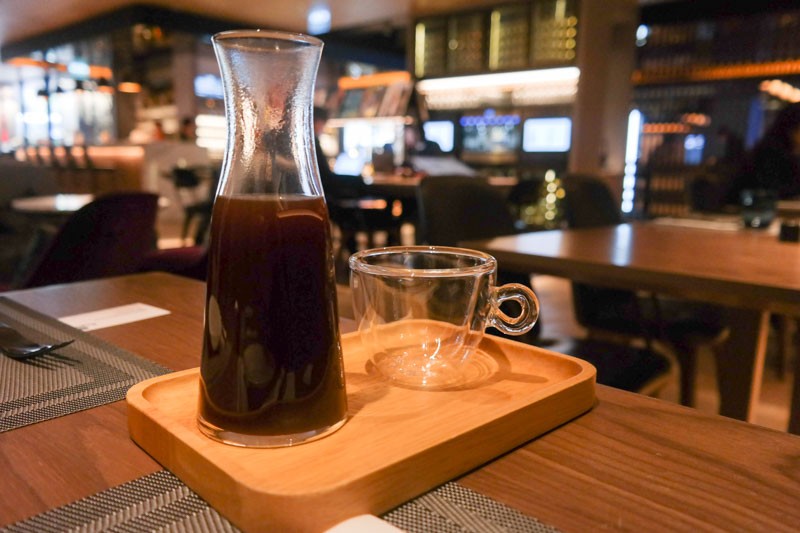 What I found even more interesting was the wine dispensing machine. This lounge bar allows you to sample various wines in pour sizes from the dispenser. Great for a self-hosted wine-tasting evening where you're not committed to a whole glassful. Interesting concept.
Dinner at Park Lane Hong Kong
A buffet with dim sum, sashimi, lobster, crabs, noodle station, Peking duck and more dessert than my stomach will allow. Café One attracts walk in guests and many locals too, for good reason. The selection at the dinner buffet is impressive and the food tastes great. I especially enjoyed the lobster and the desserts. Park Lane Hong Kong has a very talented pastry chef so the desserts are no joke.
Kids will love the soft serve ice cream machine.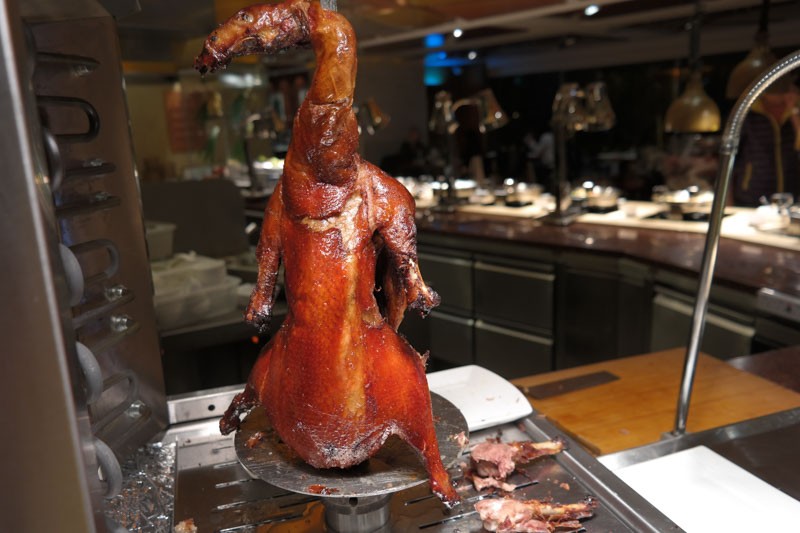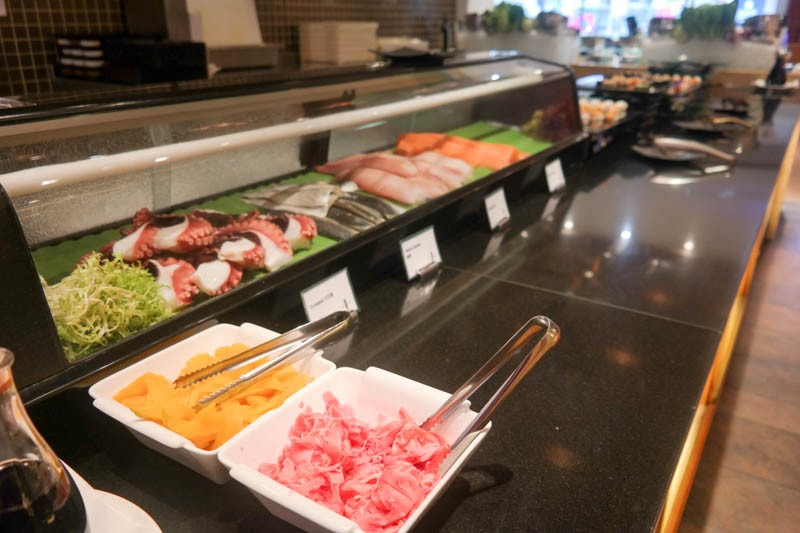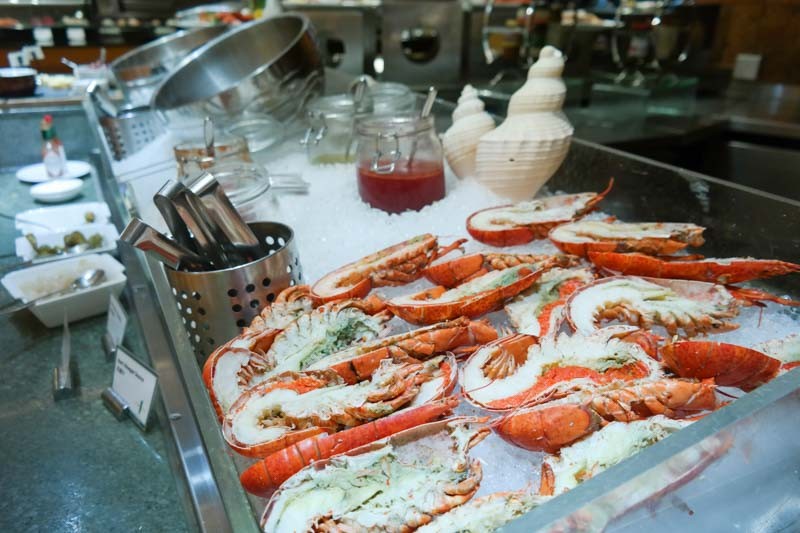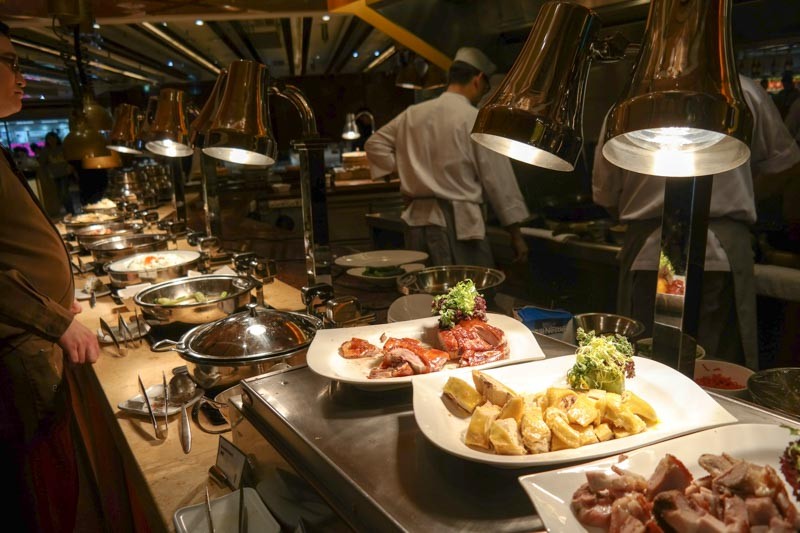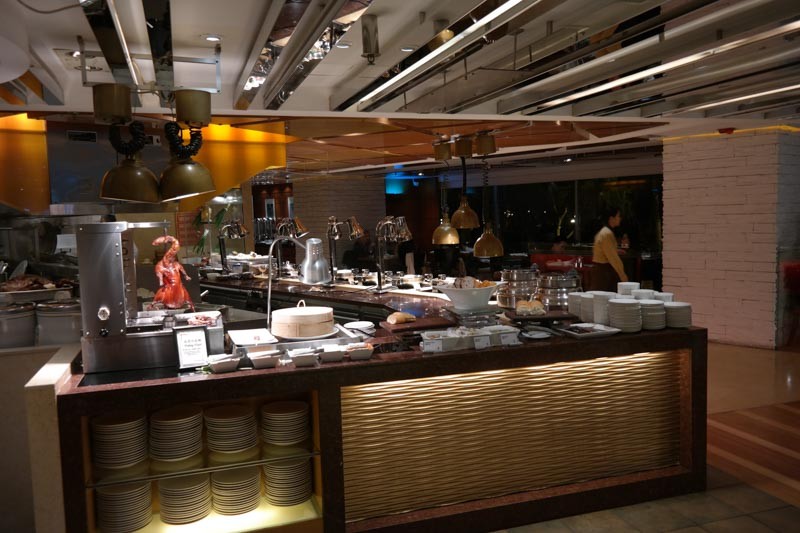 Back to Top
Park Lane Hong Kong Sunday Brunch
If you stay on Sunday, save your tummy for Sunday brunch. It's served up at Riva and the Deck so you get a different view of the city. Again, you can enjoy lots of lobster, salads, sushi and cake. Brunch is served with a starter and main you can pick off the set menu, on top of all the food laid out.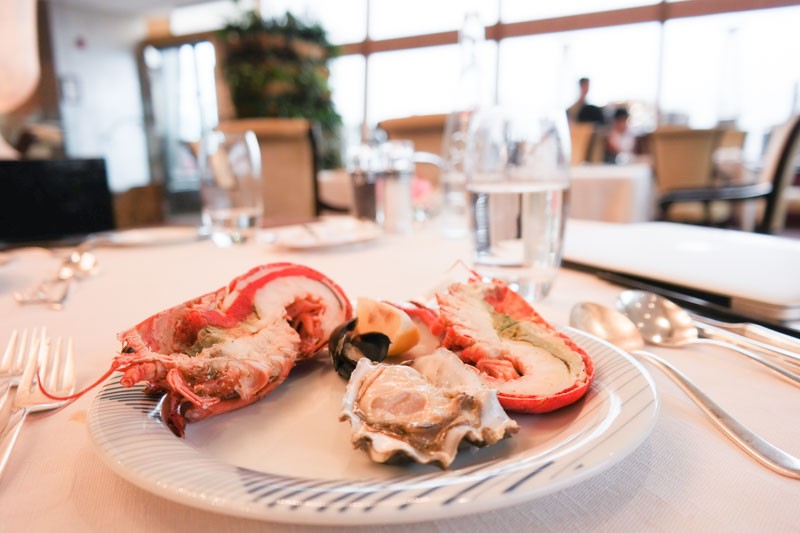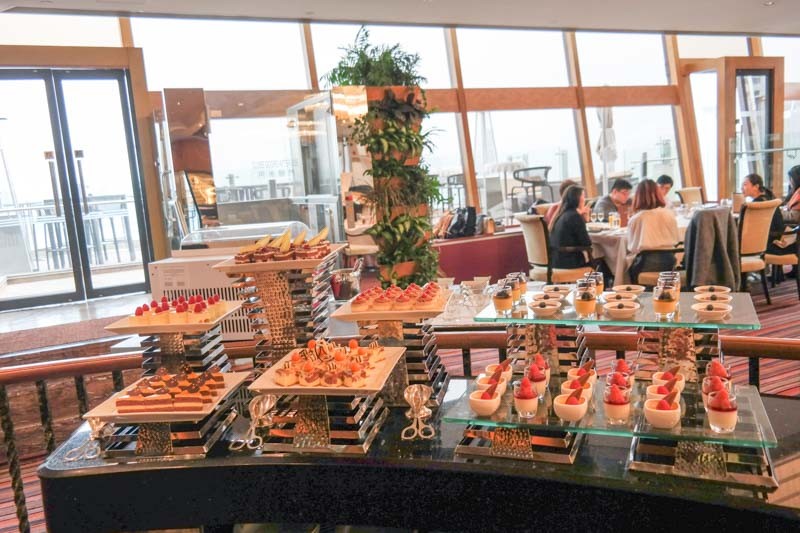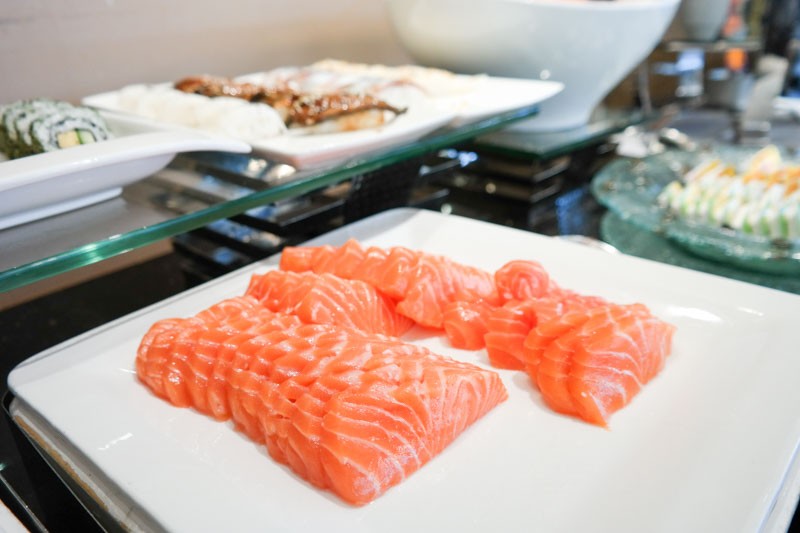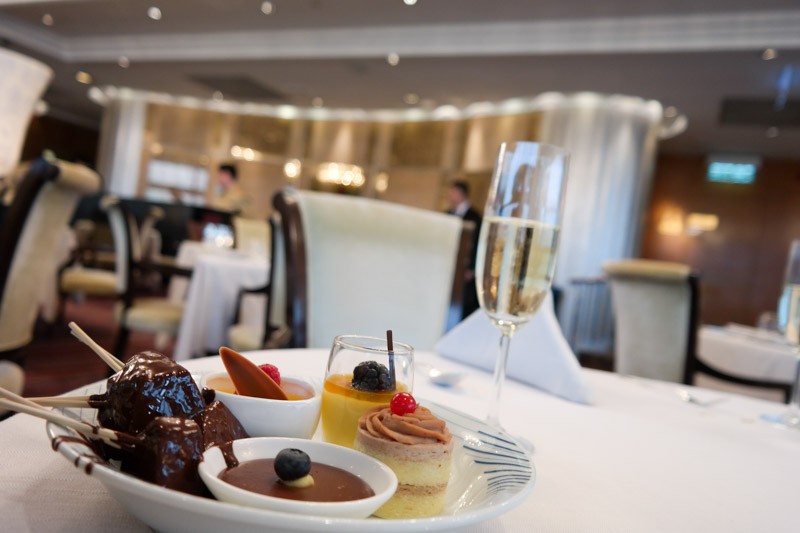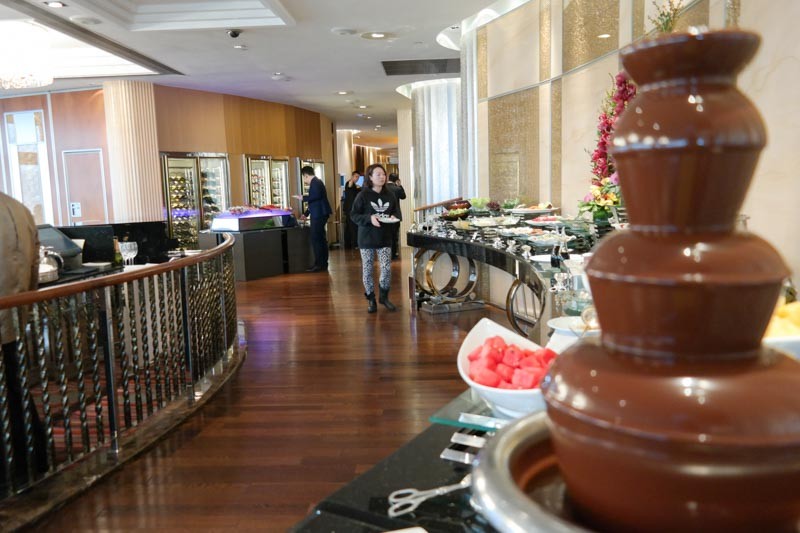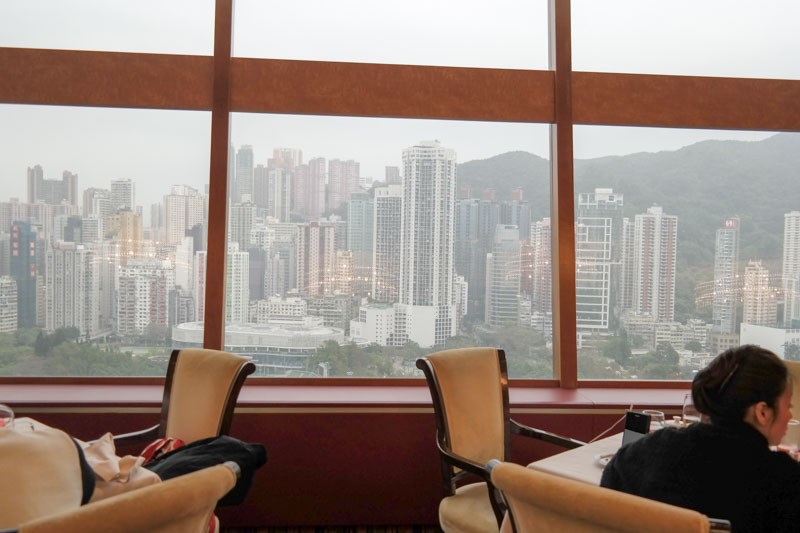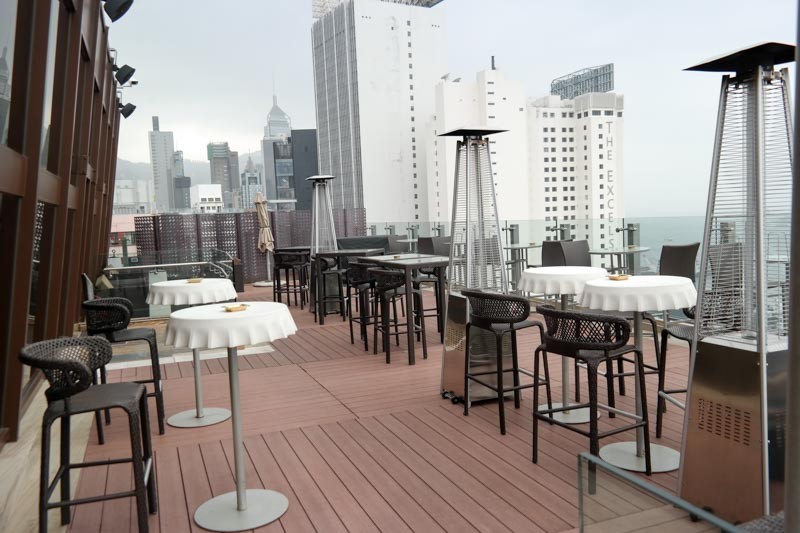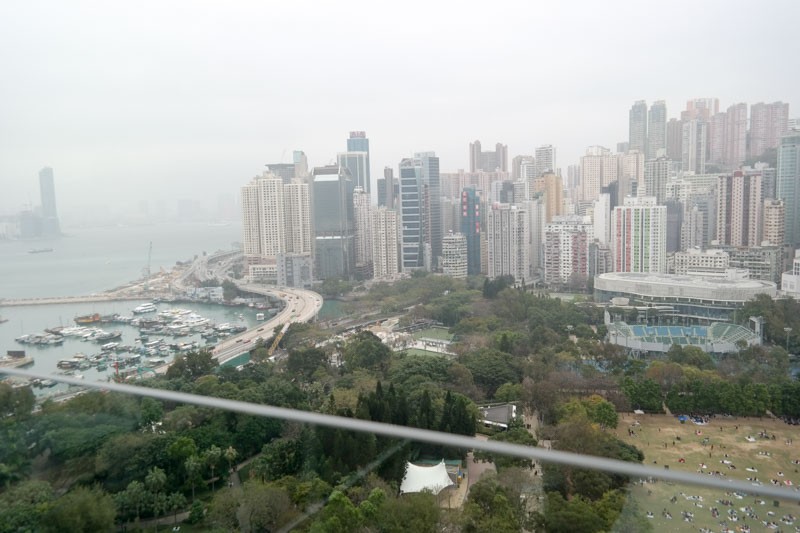 Other Amenities at Park Lane
A gym to work off all that food.
A rooftop bar for evening cocktails and a rooftop deck often used for post-banquet wedding cocktails.
A sauna, to warm up during winter.
A basic spa room for massages.
And business facilities.
Back to Top
Verdict – The Park Lane Hong Kong Review
The location itself is a win. The Park Lane then delivers everything you would expect from buying the precious blue square on the Monopoly board. At this 5 star Hong Kong hotel, service is great, the food tested my waistband, the beds were clouds for a dreamy sleep and I loved the lobby design.
My only comparison to the pre-revamped hotel was the executive lounge where I had my breakfast. The dated carpets and chairs were the standard of many classy hotels 20 years ago. It was obvious to me then, how well the renovations have successfully refreshed and revived the hotel space. The lobby did make a big impact when I first walked in before I knew about all that. So yes, it's a great experience and very welcoming for savvy travellers.
Btw, I wouldn't recommend breakfast at the executive lounge. Stick with Cafe One. All the other food I had at Park Lane Hong Kong was delightful and would please any foodie. If I had to pick between the 3 options I highlighted, I'd go for the dinner or the brunch.
Great hotel, lives up to its name and reputation for luxury, and a very fresh functional design. Would I stay there again? Absolutely. Should you? Yes, and lock down dinner plans at the hotel.