By Renuka, on May 28, 2019
Los Angeles: 8 Ways to Explore the City of Angels
Los Angeles is the second largest city in the United States and is everything you'd expect of California – sunshine and palm trees. There's something in LA's air that is bursting with wild creative energy, drawing you to the city again and again. The people are so friendly and lovely, and the town itself is beautiful, each area has its own unique charm.
The list of things to do in Los Angeles is as long as the city is vast. With pretty darn good food and great weather all year long, Los Angeles offers so much beyond the glamour of Hollywood. Here are my top recommendations of things to do while in LA.
Take a stroll down Hollywood Boulevard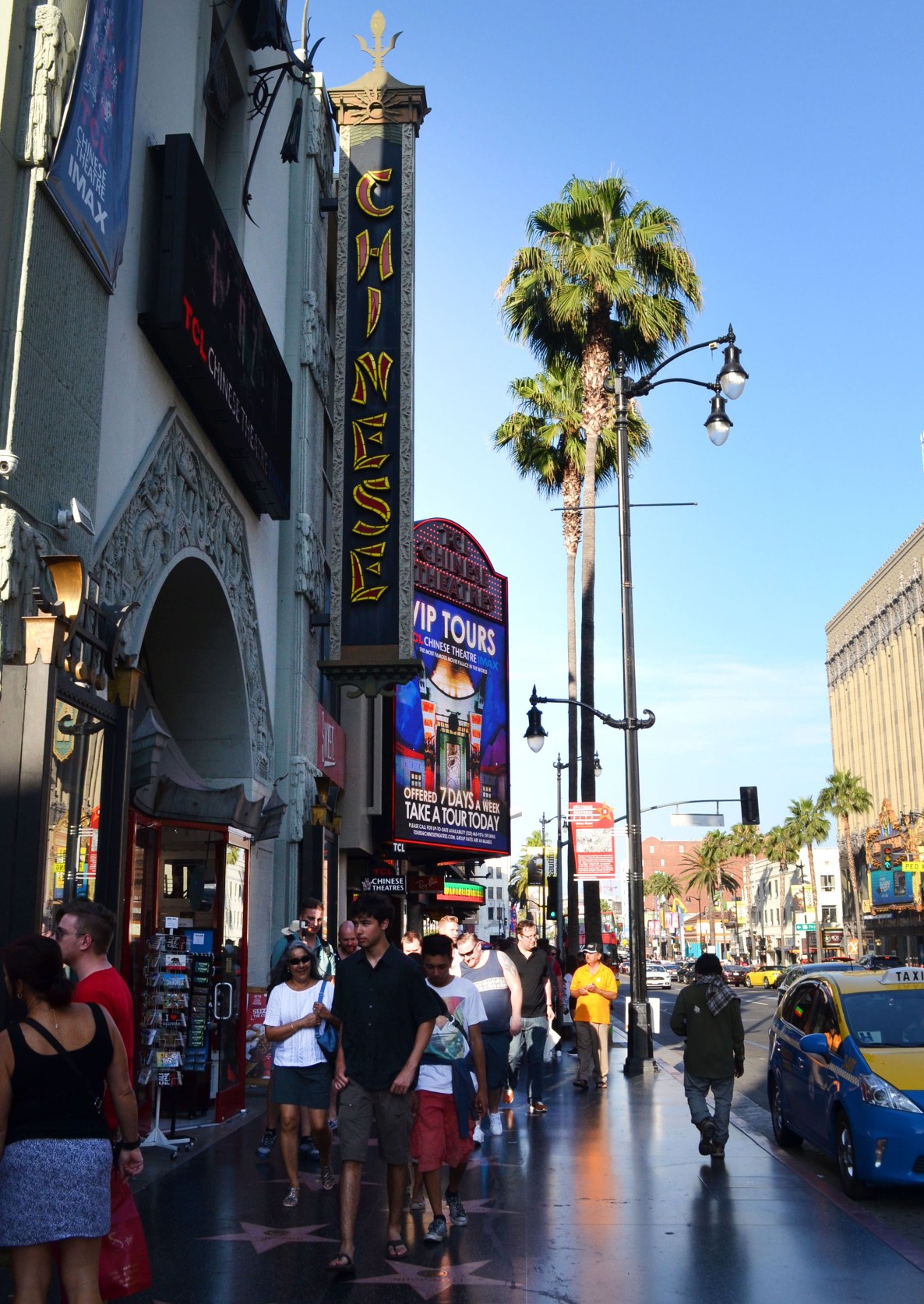 Hollywood Boulevard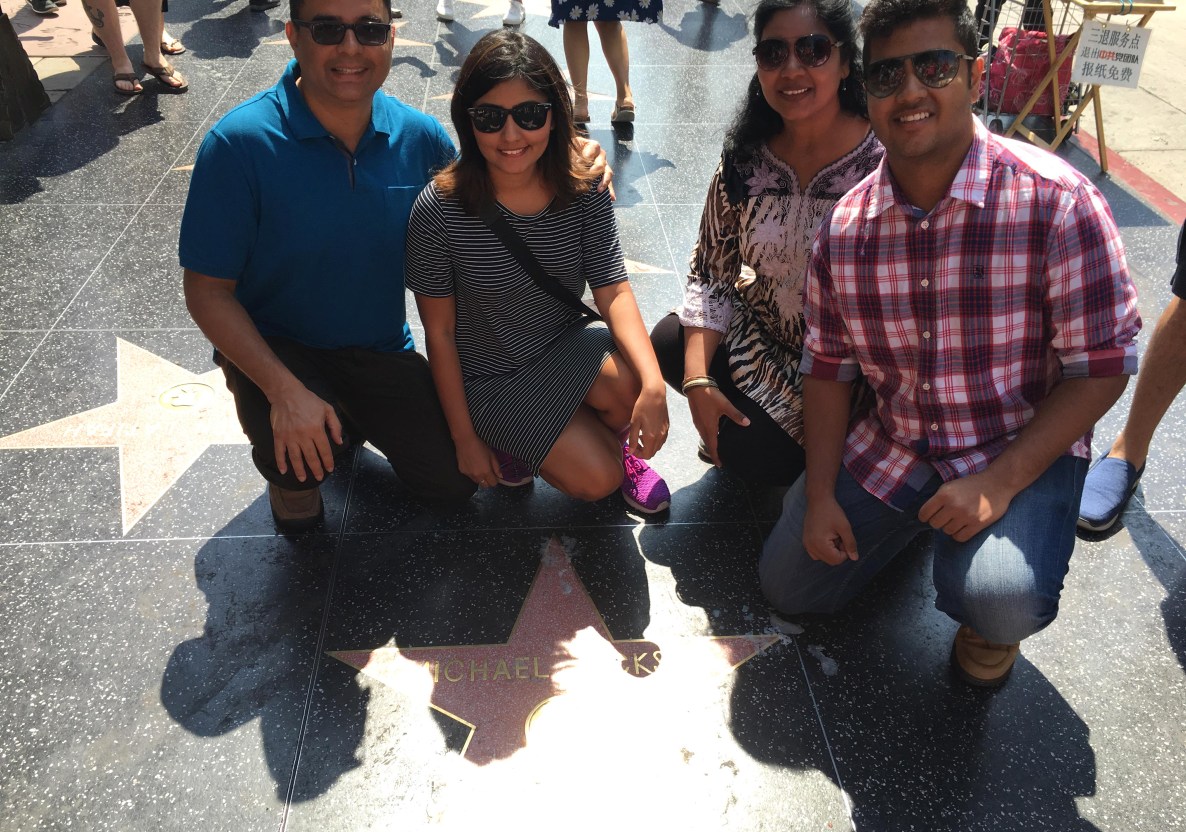 Hollywood Walk of Fame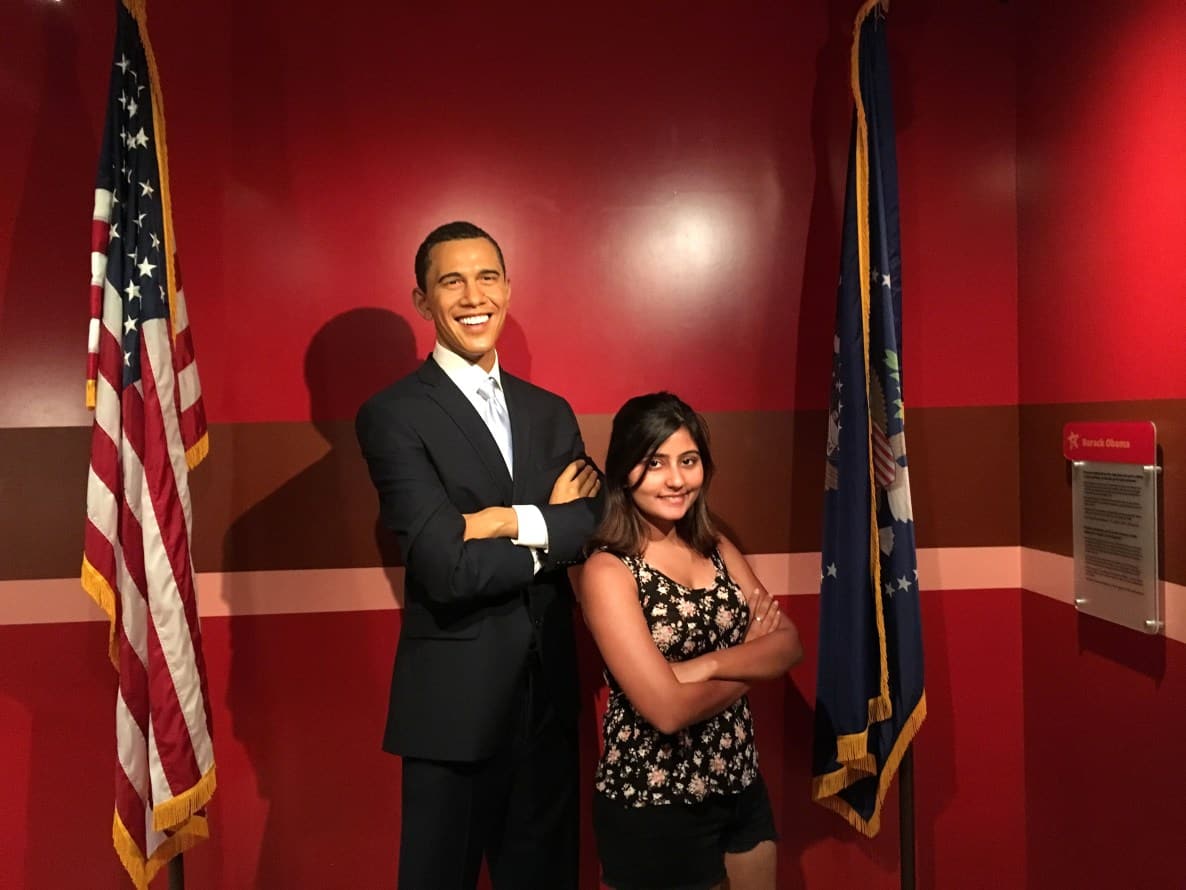 Just chilling with President Obama
Hollywood Boulevard is a place that tops most Los Angeles visitors' bucket list. The packs of tourists only add to the liveliness of the area, giving it a fun and upbeat energy. Between tourists, costumed characters and street performers, Hollywood Boulevard is an excellent place for people watching and getting free entertainment.
It is also home to some of LA's major tourist attractions like the Hollywood Walk of Fame, Dolby Theatre (where The Oscars take place every year), TCL Chinese Theatre, El Capitan Theatre, and Madame Tussauds Wax Museum.
Our hotel was on a street parallel to the Hollywood Walk of Fame, so we spent every evening walking along those lively streets, watching people perform on the streets and just enjoying the vibe of the place. We also visited Madame Tussauds Wax Museum and got pictures taken with some of our favourite celebrities (like Meryl Streep and Justin Timberlake)!
Spend a day at Universal Studios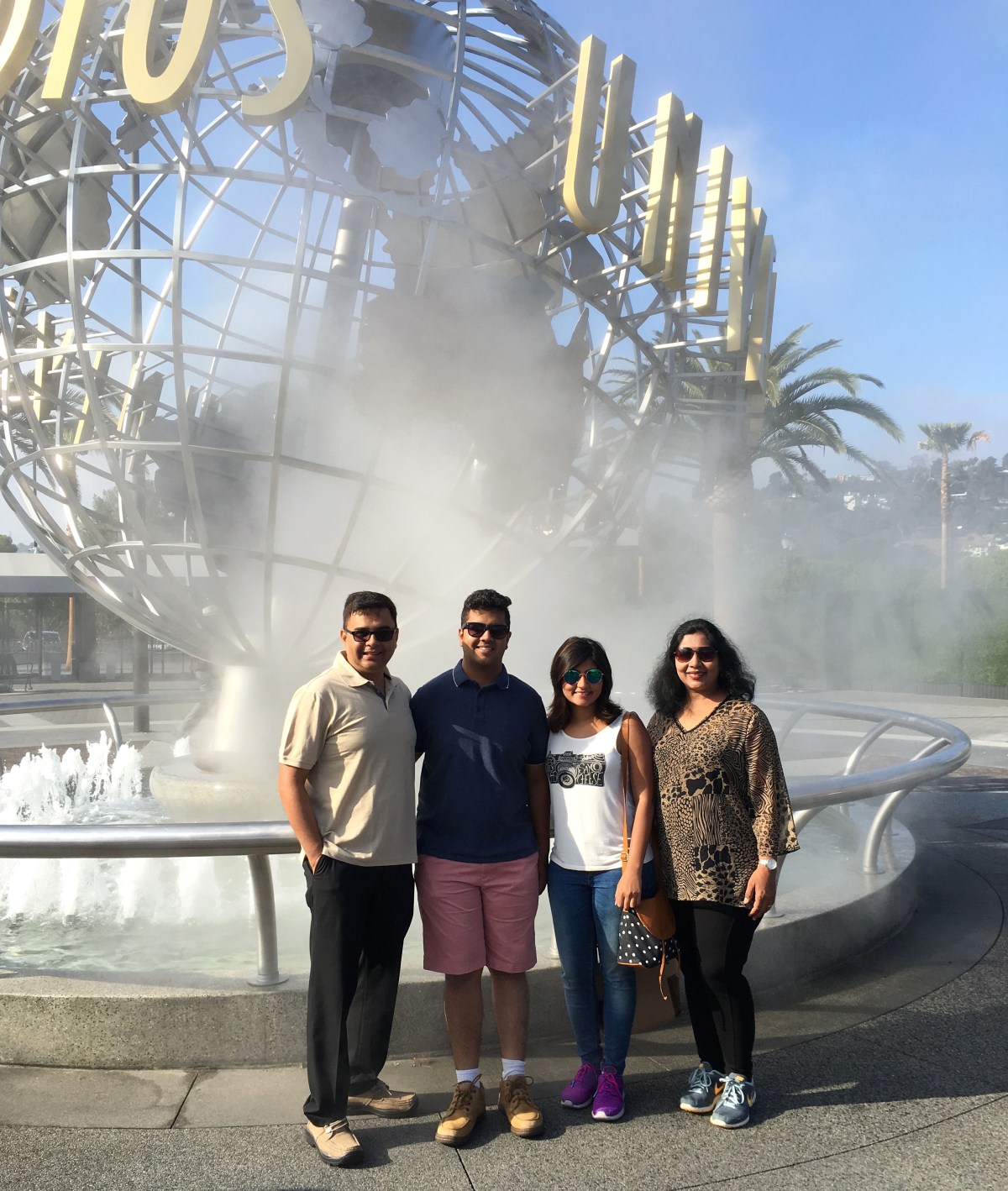 The next day, we had the most incredible time at the Universal Studios Hollywood. Besides the amazing amusement park, it also has actual movies and TV studios where films are shot. We took the VIP Experience package and toured the park with no queue, just like superstars!
The rides were fantastic, and the highlight of the trip was visiting the Universal Backlot, where so many of my favourite movies and TV shows have been shot. We also had a chance to visit the ever-so-famous Wizarding World of Harry Potter — can't believe that I actually walked around Hogsmeade, sipped some butterbeer, and hopped onto the Harry Potter-themed rides.
Address: 100 Universal City Plaza, Universal City, CA 91608, USA
Opening Hours: 9 AM – 10 PM
How to get there: Take the 101 Hollywood Freeway North to Universal Studios Blvd. Turn right onto Universal Studios Blvd. Follow signs to Universal Studios Hollywood.
Explore the lavish Beverly Hills and Rodeo Drive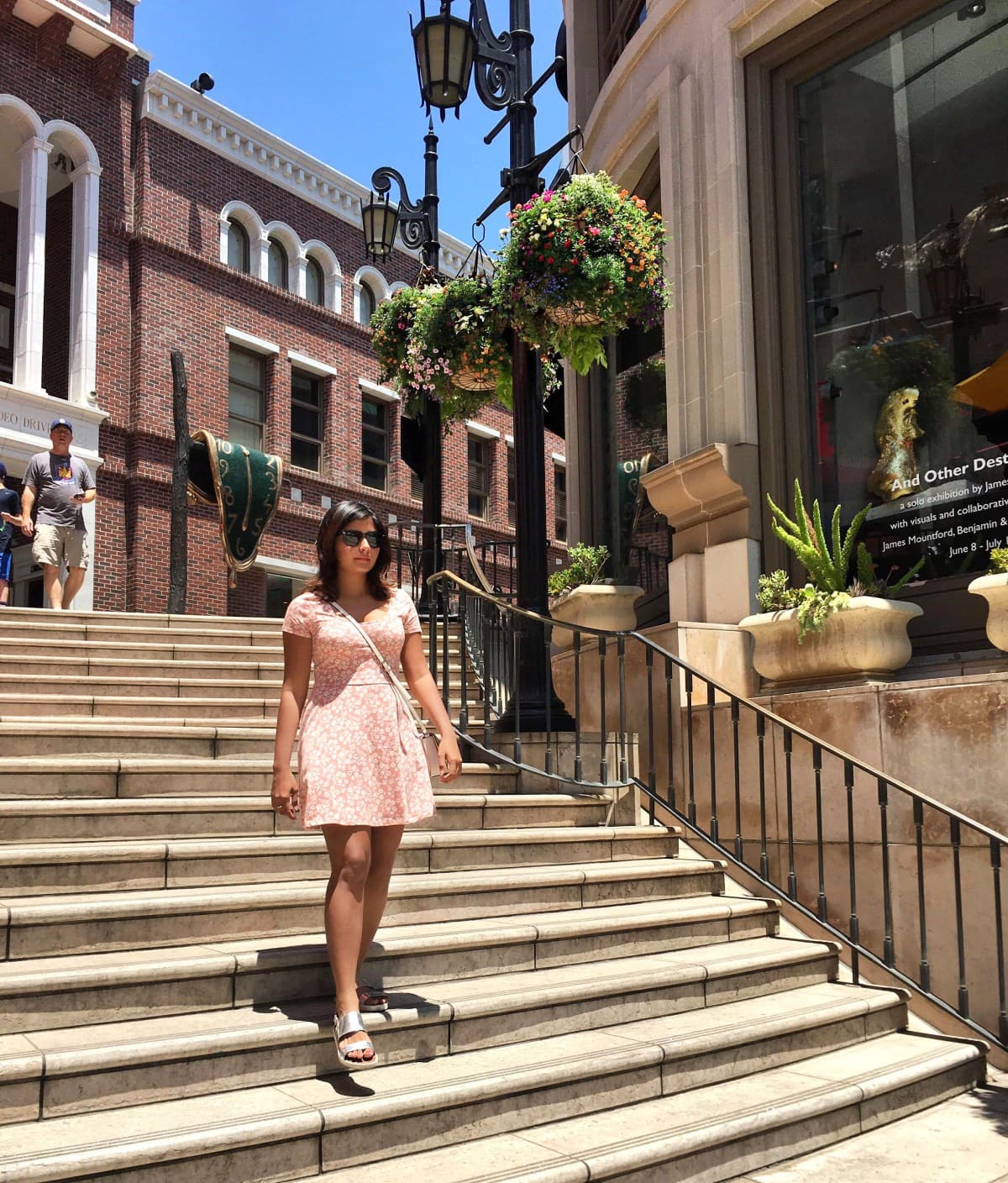 Beverly Hills is LA's most affluent neighbourhood where some of Hollywood's wealthiest celebrities live. We did a tour of Celebrity Homes and saw the houses of famous people like Michael Jackson, Bruno Mars, Katy Perry, and Justin Bieber. I didn't know what we were expecting from this tour — to be honest, but it wasn't really my thing.
It's exciting to see the houses of famous people, but you can't really tell much by driving past their homes. However, our tour guide was excellent and kept us laughing throughout the tour with his Hollywood-themed jokes. They made up for average sightseeing!
We then visited Rodeo Drive, one of the most expensive streets in the world with tons of designer stores. My eyes were gleaming wide, but my wallet was screaming in pain, so I just kept it to window-shopping.
Watch a movie at the legendary TCL Chinese Theater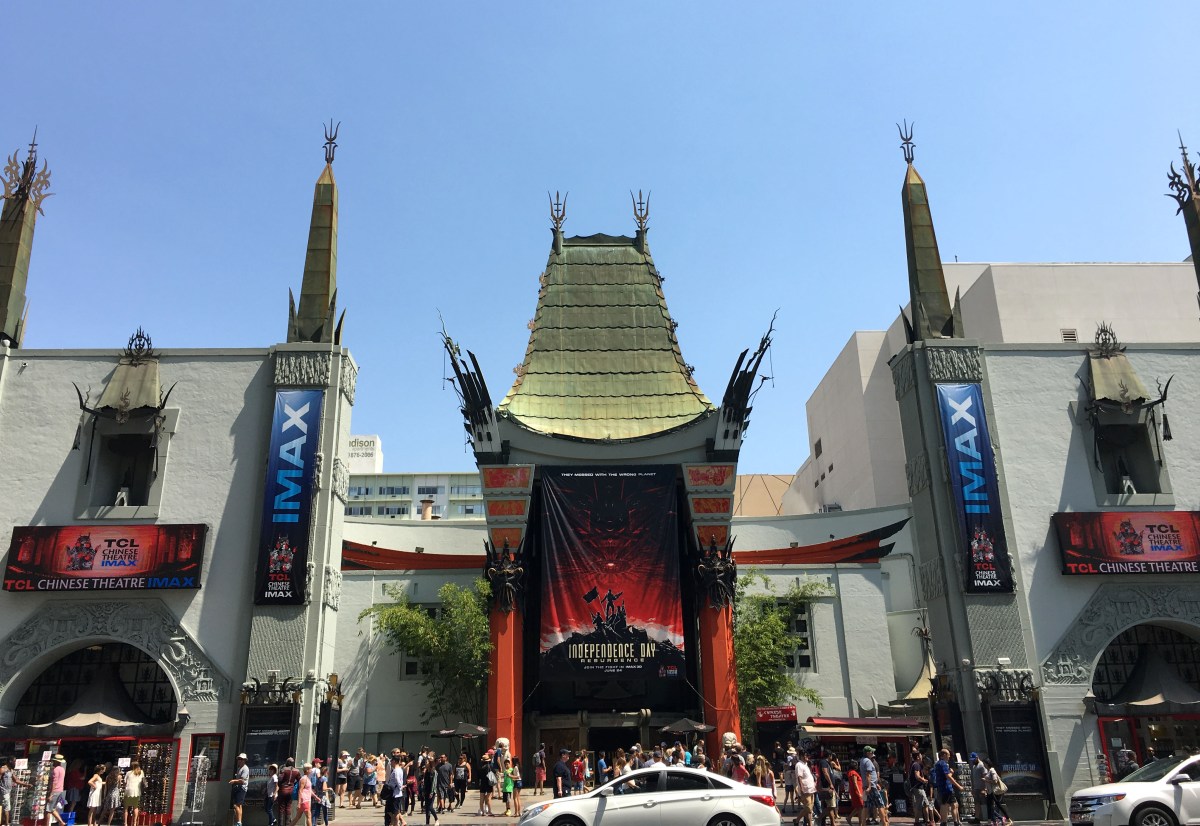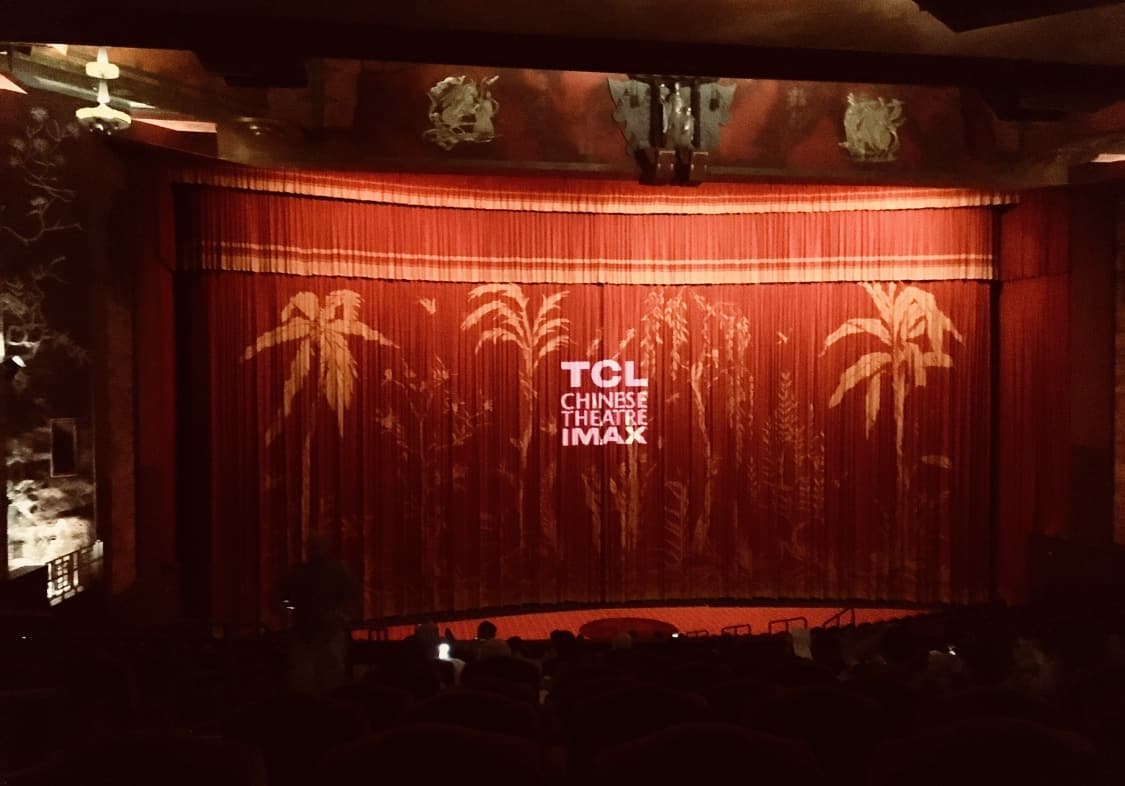 The TCL Chinese Theatre is one of the greatest and most iconic theatres in the world, and we knew we shouldn't miss the opportunity of watching a movie there. We picked Independence Day: Resurgence in IMAX and surprisingly enjoyed the film as well as the grandeur of the movie hall. From the outside, it looks relatively small, but once you step in, you can see how massive and beautifully decorated it is. The IMAX here is said to be the largest IMAX auditorium in the world! The beautiful interior is truly unlike any other theatres I've been to, so don't miss this out!
Address: 6925 Hollywood Blvd, Hollywood, CA 90028, USA
Opening hours: Varies depending on the shows
How to get there: It is right in the heart of Hollywood Boulevard where the Walk of Fame is. It is hard to miss! You can get there by car, bus or subway.
Spend an evening at the Sunset Boulevard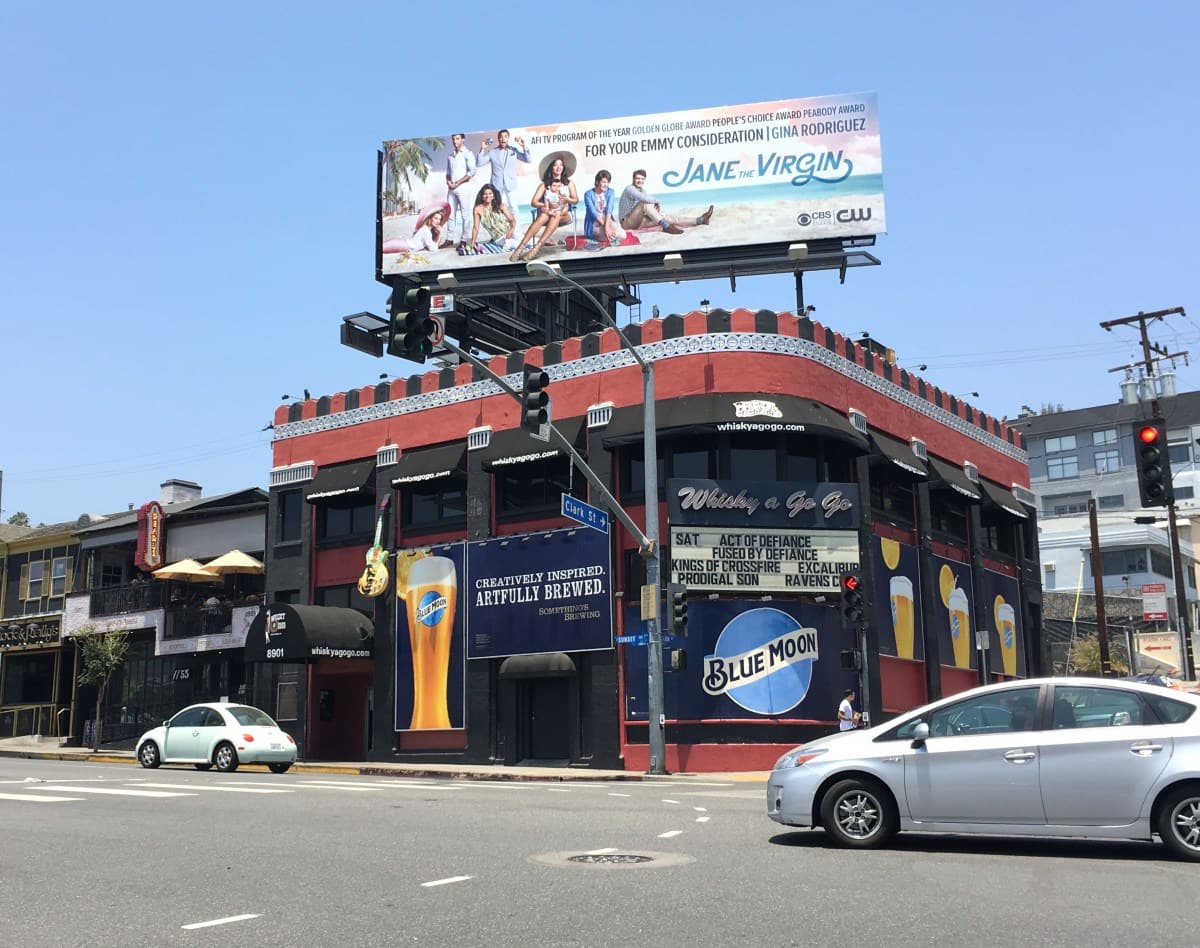 The 22-mile long Sunset Boulevard stretches from Hollywood to Malibu — an iconic street captures the very essence of Los Angeles. If you are looking for the vibrant LA's nightlife, Sunset Boulevard is ready to please you with the myriads of bars and restaurants.
We went to the classic Whisky a Go Go, a nightclub on Sunset Boulevard known as the launching pad for bands like The Doors, Guns N' Roses and Led Zeppelin. Being such a well-established rock club, we definitely wanted to check it out. We spent our evening watching an American metal band, Act of Defiance, on stage — can never forget this!
Address: 8901 Sunset Blvd, West Hollywood, CA 90069, +1 310 652 4202
How to get there: The Sunset Boulevard is a 22-mile long stretch. The best way to see it is by driving past it in a car. A few parts of the Boulevard are walkable but it's ideal to have a car/taxi.
Take a food tour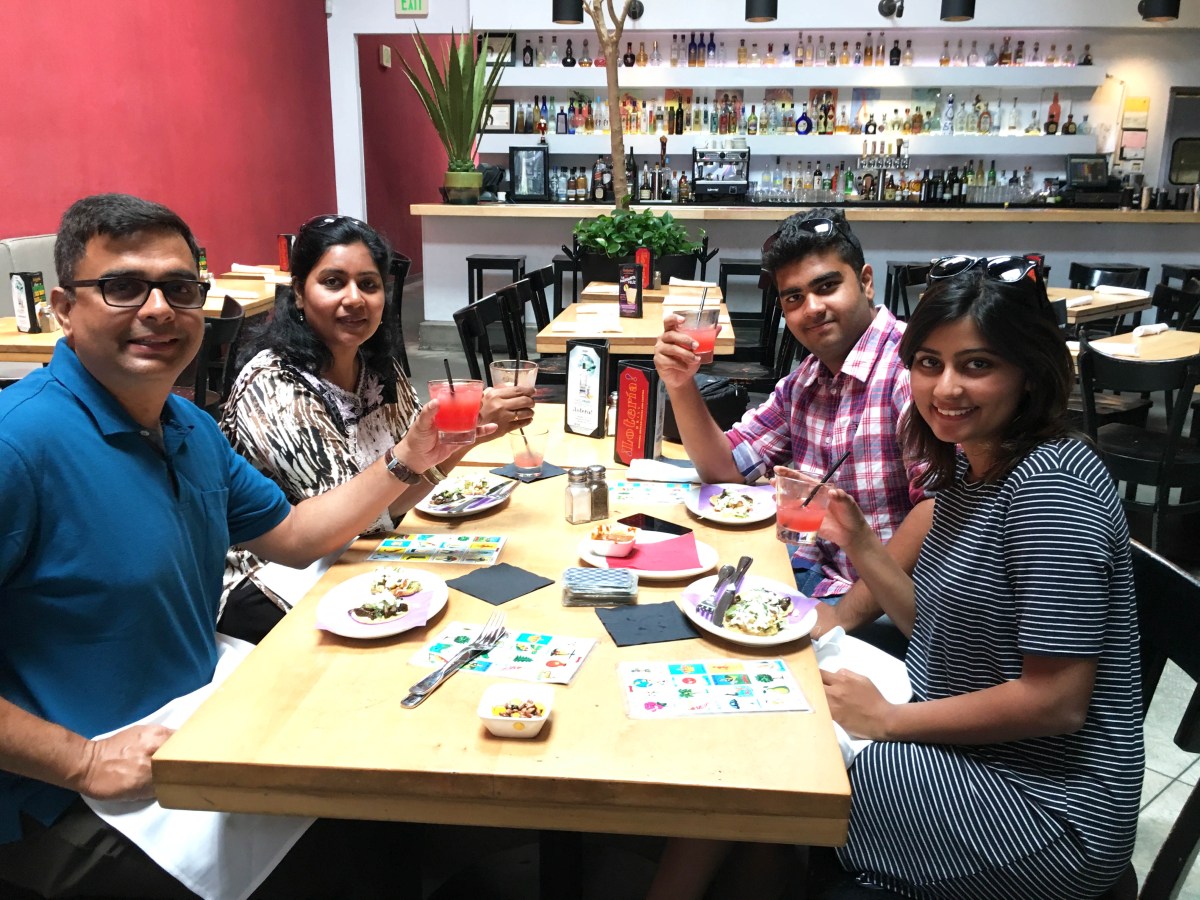 Delicious Mexican food at Loteria Grill
The food in Los Angeles is really diverse, so we wanted to taste all the different flavours of the city by signing up for the Hollywood Sites and Bites Food Tour. The 4-hour tour started with some Hollywood sightseeing where our lovely hostess Trish gave us a bit of Hollywood history. We then proceeded to the fun part of the trip: THE FOOD!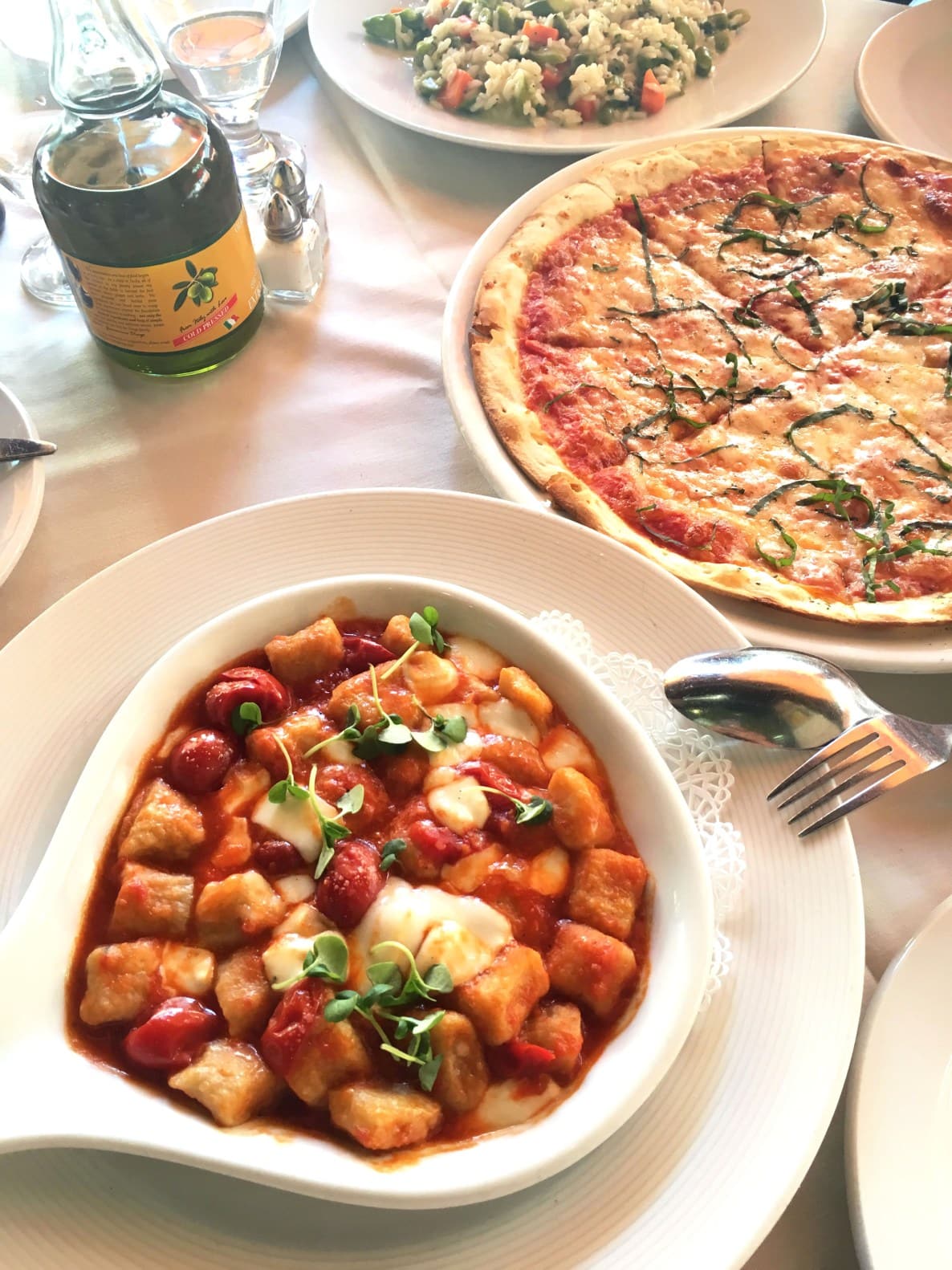 Lunch at Via Alloro
Probably one of the best pizzas I've ever had, courtesy Mozza2Go
We went to five different shops, sampling some incredible food that we probably wouldn't have tried on our own. From Mexican cuisine at Loteria Grill, delicious pizzas at Mozza2Go, and potato knishes, coleslaw and pickle spears at Greenblatt's Deli to some delicious dessert at Mashti Malone's Ice Cream — the tour was such a gastronomic delight. My favourite was the authentic Mexican food at Loteria Grill, which was only made better with the beautiful ambience of the restaurant.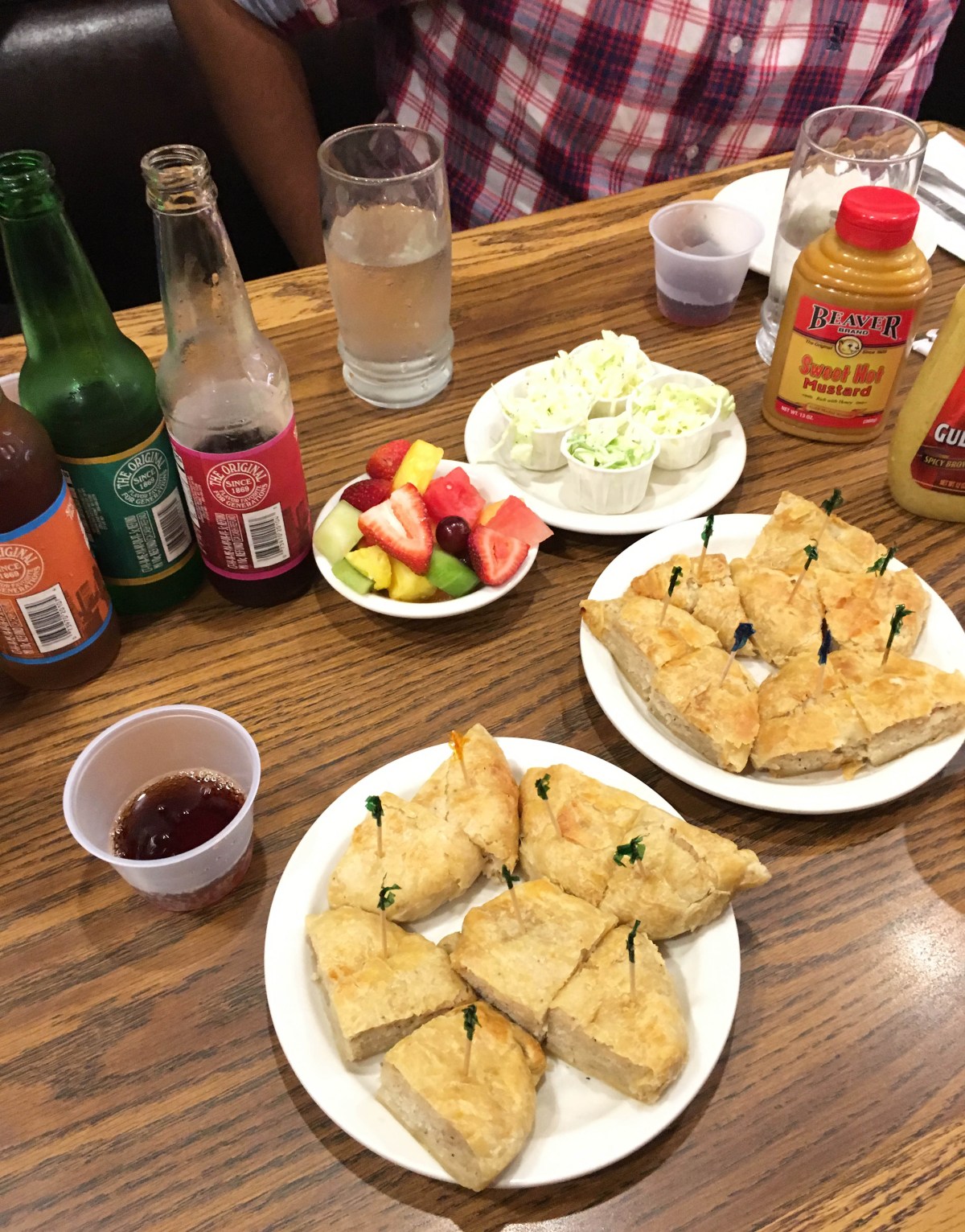 Greenblatt's Deli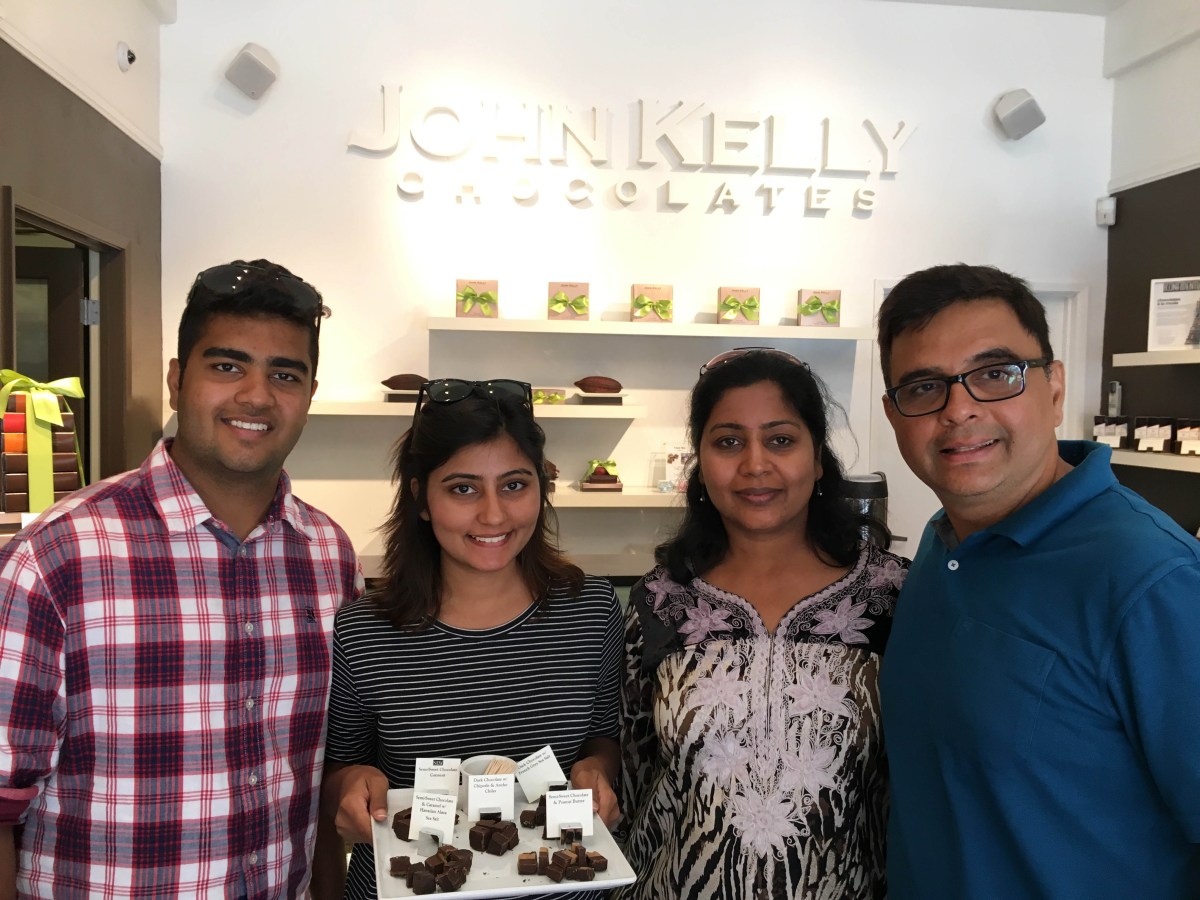 Always a good time for chocolate
Catch a show at the Hollywood Bowl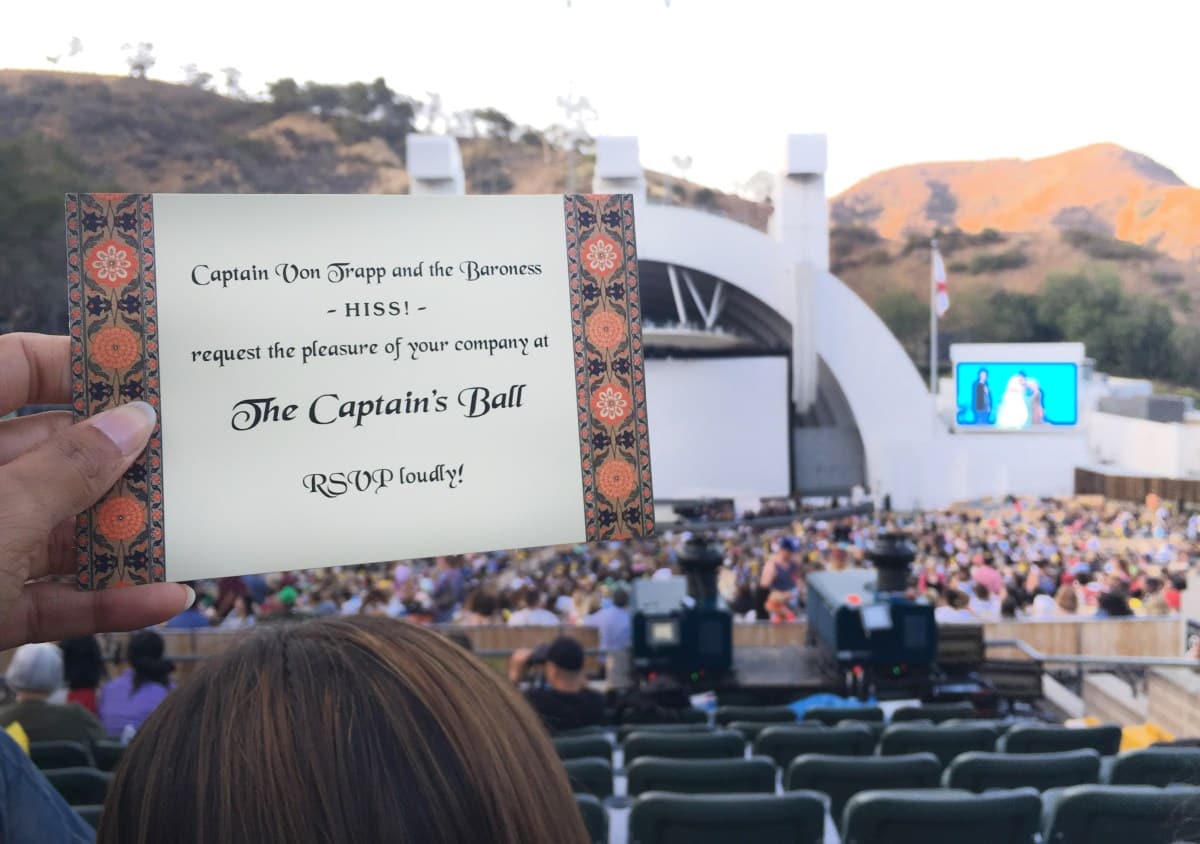 Hollywood Bowl is a huge outdoor amphitheatre in Hollywood, with a seating capacity of 17,500 people. It had always been my dream to watch a movie here, and guess what — we got the chance to watch my all-time favourite movie: The Sound of Music.
Before I go on to describe how beautiful that evening was, I should emphasise my love for that movie. My mom and I would watch it every day when I was little. I still remember a lot of dialogues from the film to date! So when we got the tickets to attend the Sing-A-Long Sound of Music celebrating the film's 50th anniversary, we were ecstatic.
Address: 2301 N Highland Ave, Los Angeles, CA 90068, USA
How to get there: Parking at the Bowl is very limited so make use of their Park & Ride and Bowl shuttle service.
Plan Your Visit to Los Angeles

[tabs]
[tab title="Where to Stay" icon="entypo-suitcase"]
Where to Stay?
Los Angeles has a ton of hotel options for different budgets. One of the most iconic hotels in LA is the Beverly Hills Hotel — if you feel like splurging on your hotel, this is the best place to go.
If you're looking for something more affordable, you could consider staying at the LINE Hotel or the Mayfair Hotel — both are centrally located.
[button style='blue' icon="entypo-suitcase" url='https://www.expedia.com.sg/Los-Angeles-Hotels.d178280.Travel-Guide-Hotels' fullwidth='true'] Top Hotels in Los Angeles [/button]
[/tab]
[tab title='Best Time to Visit' icon='entypo-light-up']
Best Time to Visit
Los Angeles has decent weather all year long, but the best months to visit are from March to May and September to November. It's the best time to avoid the crowds during the summer and winter holidays.
[/tab]
[tab title="Getting There" icon="entypo-address"]
How to Get There
The Los Angeles International Airport (LAX) is the main gateway to LA. You can easily find a cab or rent a car at the airport to get to your accommodation in LA.
[button icon="entypo-flight" url='https://www.expedia.com.sg/Cheap-Flights-To-Los-Angeles.d178280.Travel-Guide-Flights' fullwidth='true'] Flights to Los Angeles [/button]
[/tab]
[/tabs]