By David Bowden, on February 11, 2020
My Weekend Escape to Langkawi
For me, the best beaches close to Kuala Lumpur are on the island of Langkawi. It's less than an hour's flight from the capital. Landing at Langkawi Airport is always a pleasant experience – it's small, so you can get out of it fast. Though, if you're one to indulge, there are duty-free shops right there for you.

Day 1
I was greeted by a chorus of car rental staff barking out their promotions. I selected one at random and hired a small car.
My Hotel in Langkawi
There are a handful of antique Malay houses in the resort.
Sourced from around the island, they
were disassembled
and relocated to Bon Ton's coastal wetland setting
.
It adjoins Temple Tree Resort with a small collection of old houses curated from around
Malaysia
and moved onsite
.
Inside these antique houses are modern amenities. So you get a whole house full of antique furniture complemented by all the modern facilities. There's also an open-sided restaurant in Bon Ton called Nam Restaurant. I enjoyed my first cocktail as the sunset over the wetlands brimming with birdlife.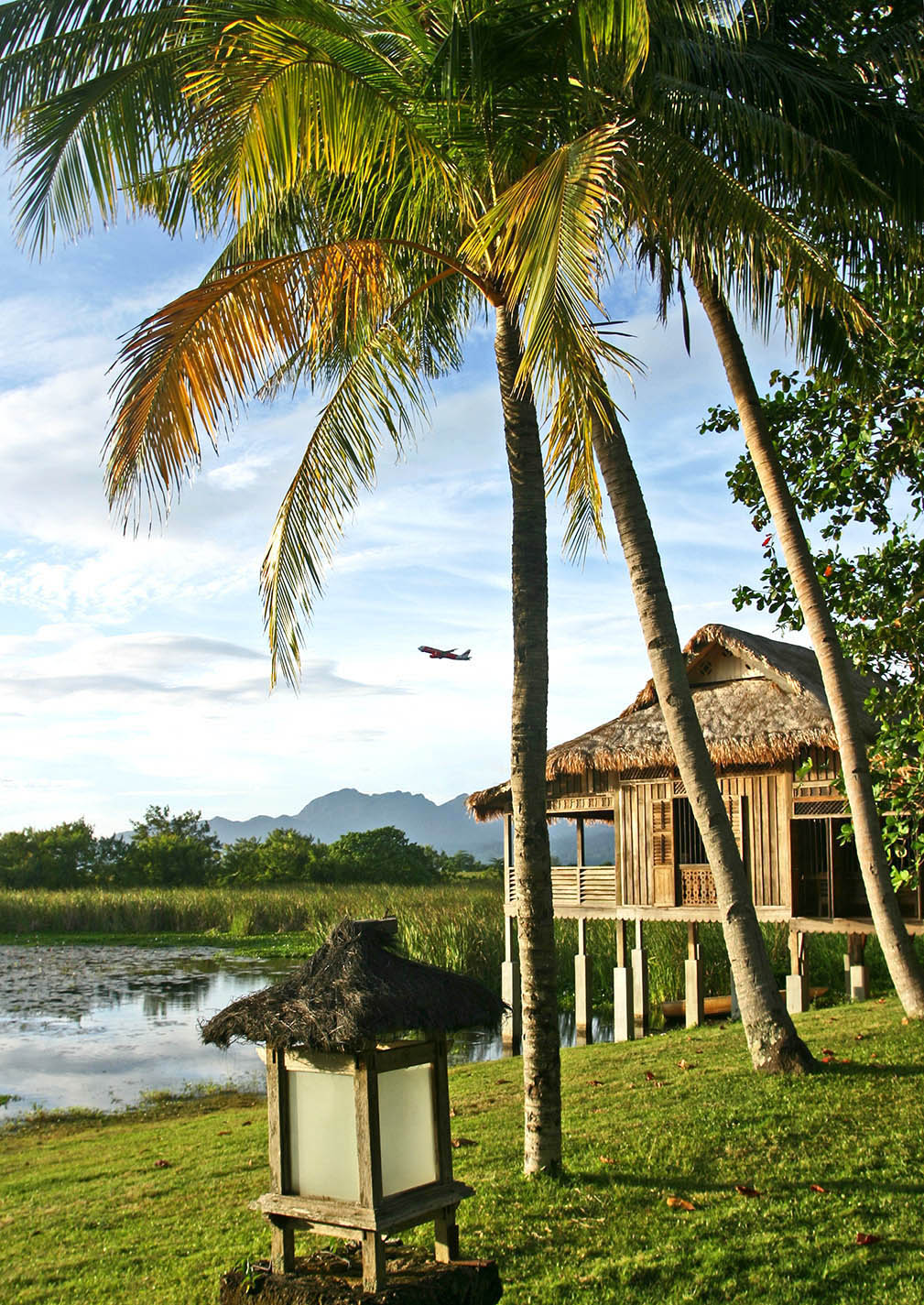 Bon Ton Resort
[button style='blue' icon="entypo-suitcase" url='https://www.expedia.com.sg/Langkawi-Hotels.d6126505.Travel-Guide-Hotels' fullwidth='true'] Find Hotels in Langkawi [/button]
Kedah Local Food
Dinner here is exquisite – a selection of both Western and pan-Asian dishes. I selected the Kedah Special served on a banana leaf with delicious spicy dishes from this northern Malaysian state. The desserts here, like the Gula Melaka (Palm Sugar) ice cream, are to die for! There is a very respectable wine list, too, including several natural wines.
Kedah Special dinner served at Nam Restaurant within Bon Ton Resort

Day 2
My sleep was very restful and I woke to a brilliant sunlit morning.
After a refreshing swim in the petite Bon Ton pool, I enjoyed a generous breakfast left in my room the previous evening when staff turned down the room
.
With two days to explore an island, I headed off to the
Langkawi Cable Car
to get a bird's eye view.
Langkawi Cable Car
It was great to be able to stand at the summit of Mount Machinchang.
Here, I was able to look off into the distance over the forested island and even northward to Tarutao Islands in southern Thailand
.
I discovered that the mountain and many parts of the island were UNESCO Geopark. This is because the island's geology is of scientific significance.
Walking along and over the
SkyBridge
provided a superb view of the rainforest canopy below
.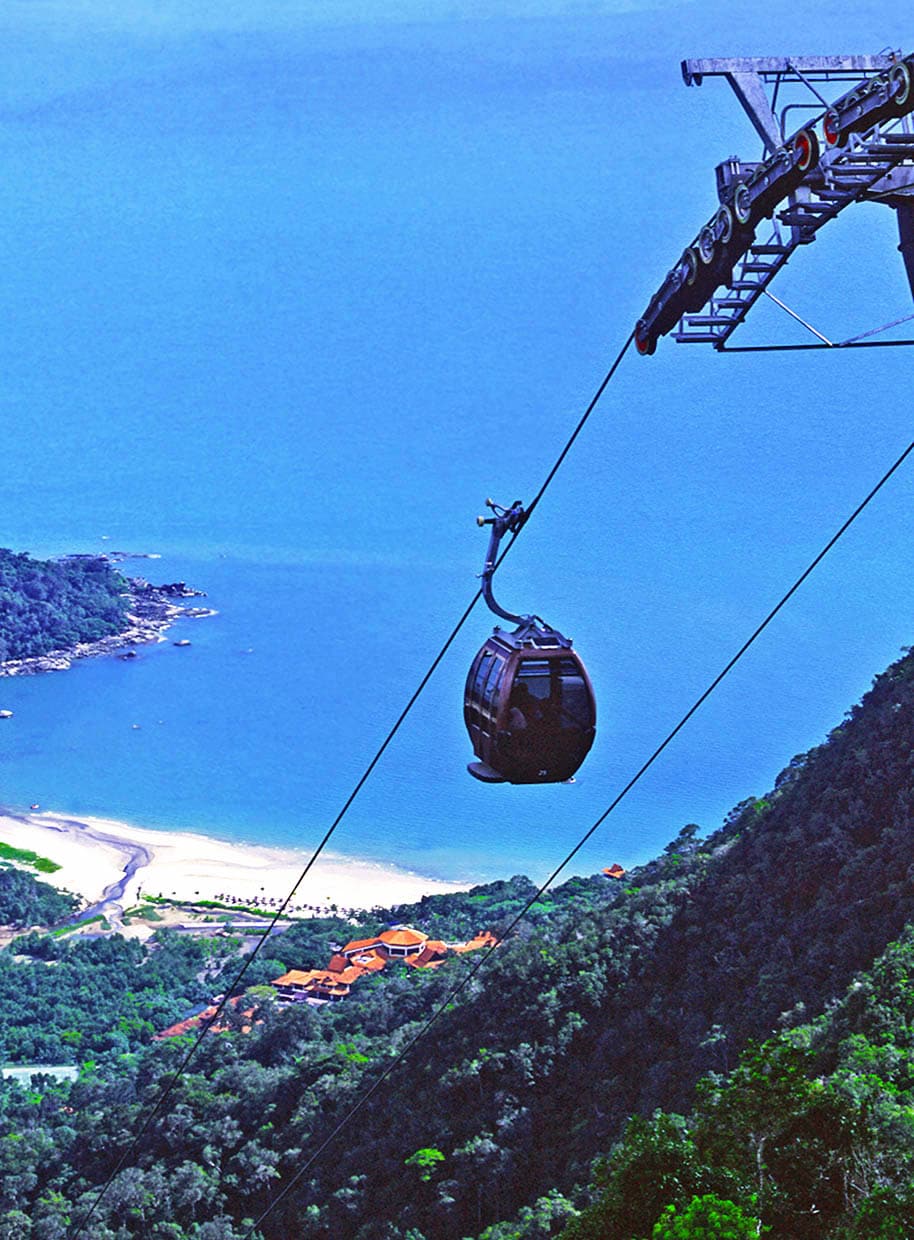 Langkawi Cable Car to the summit of Mount Machinchang
Oriental Village is situated at the base terminus of the cable car and has numerous souvenir shops and restaurants. There is a small hotel, too, and the setting is very relaxing around a small lake.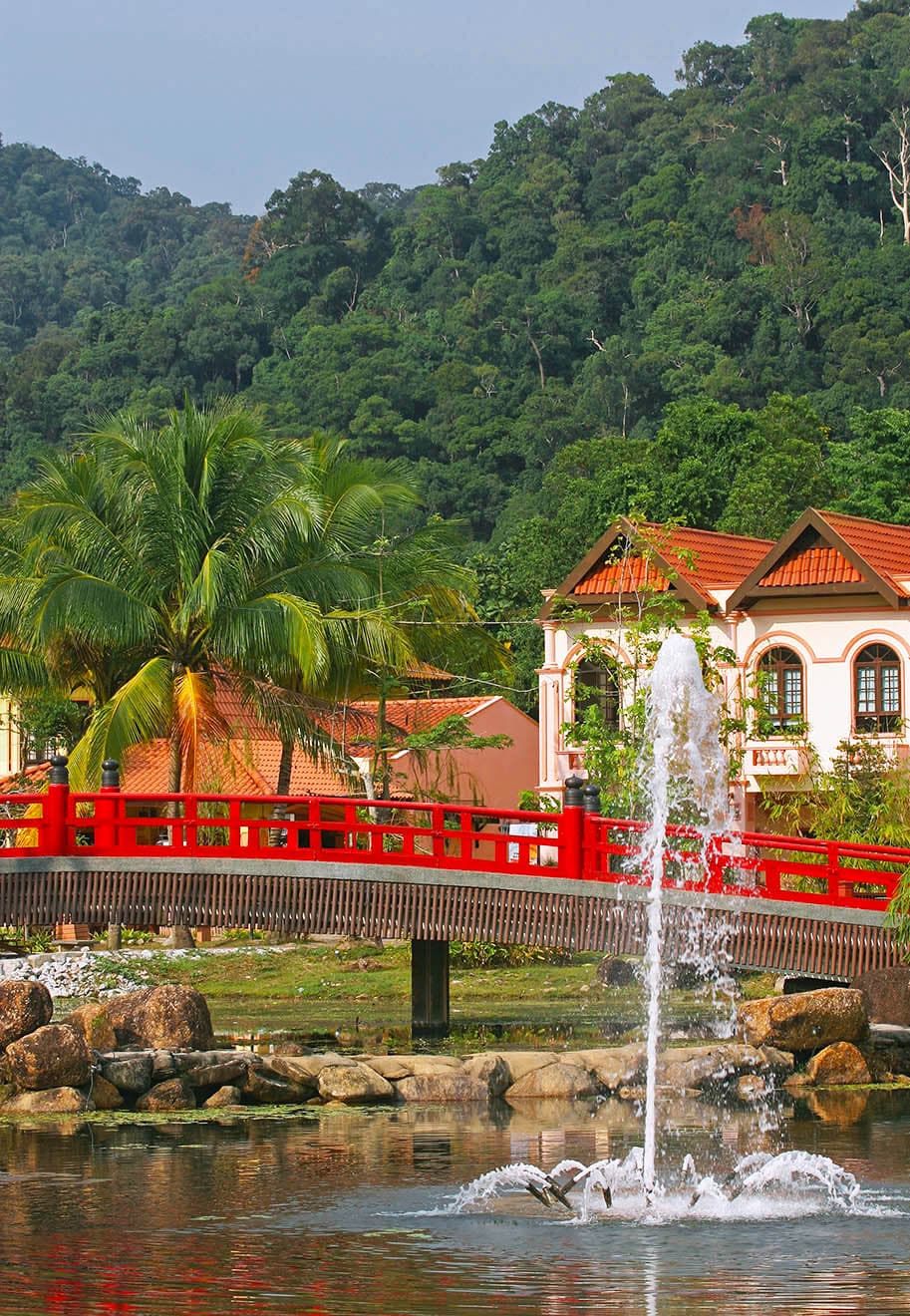 Oriental Village
Zipping good time
After a stroll around the shops, I drove a few kilometres to the car park for Tujuh Telaga or Seven Wells Waterfall. On the way, I passed a venue for horse-riding and then Umgawa Legendary Adventures that operates a zip line near the car park. Time did not permit either activity but it is always good to note these activities for future visits.
Air Terjun
Choosing a forest walk, I headed off along the steep and well-defined trail to the base of the waterfall, passing through an undisturbed rainforest where determined monkeys seek food from hikers.
Before heading off, I checked my travel app to discover that there were several freshwater pools at the end of the climb, so I took my towel and was not disappointed with a refreshing swim in a small pool.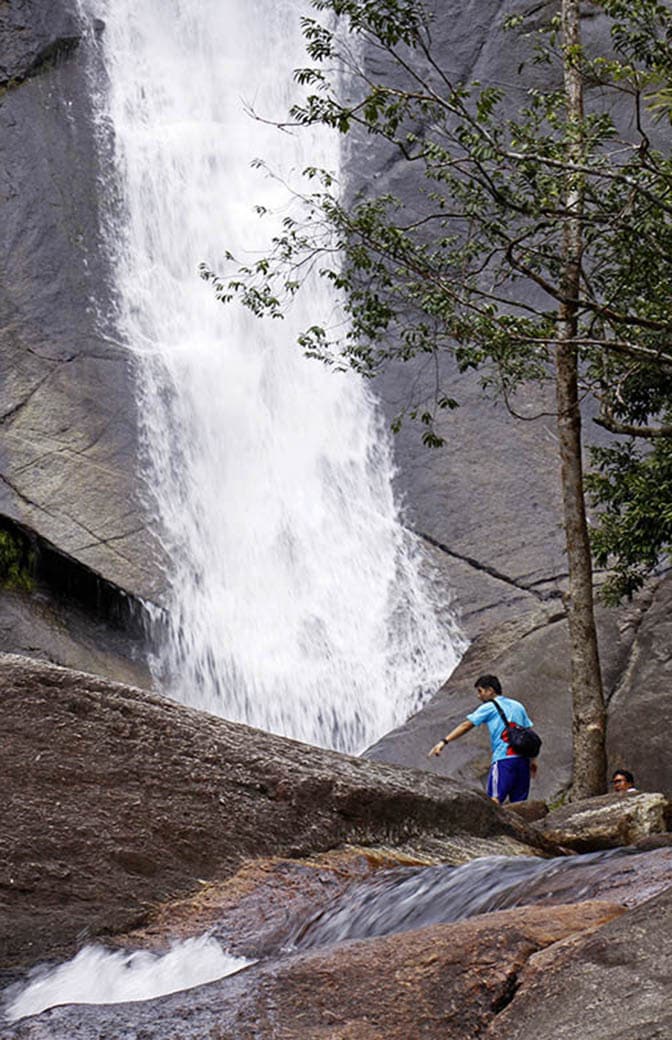 Telaga Tujuh (Seven Wells Waterfall)
Duty-Free Drinking
Returning from the walk, I checked my travel app again for the nearest bar to treat myself to a well-deserved sunset drink. The Boat House Bar in the nearby Berjaya Resort proved to be a pleasant and casual beachside bar but possibly not with the best sunset view. However, that really didn't matter as the drinks were well-priced, as Langkawi is a duty-free island. I discovered later that the many bars located along Pantai Cenang offer better sunset views.
Boat House Bar, Berjaya Langkawi Resort
Pantai Cenang
After sunset, I drove past Telaga Harbour where a boat service to Koh Lipe (Tarutao National Park) operates.
I headed down to Pantai Cenang, which has a one-way road that is about 3 km long and lined with restaurants, cafés, bars, small budget accommodations, and duty-free shops. I explore bars like Yellow Beach Bar and Thirstday Bar before returning to Bon Ton for a lightly chilled glass of Pinot Noir before retiring.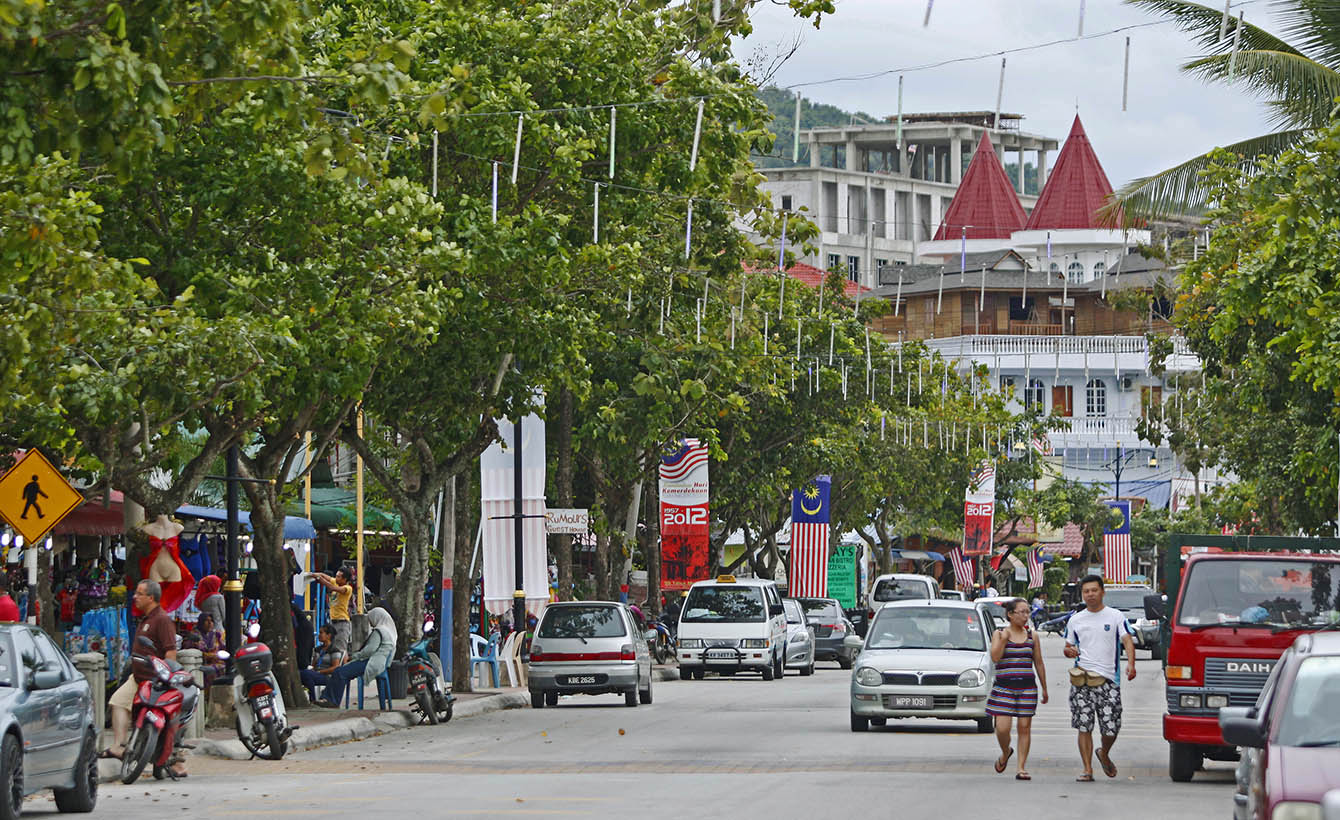 Pantai Cenang, Langkawi's main beachside retail, dining and drinking strip

Day 3
After another enjoyable breakfast, I headed off to a 3 hour mangrove tour to admire the island's coastal beauty. These plant communities line and protect the foreshore of much of the Langkawi coastline, especially on the island's northern parts.
Admire Langkawi's ecologically important mangrove forests
Langkawi Mangrove Tour
We departed in a small boat from Kampung Kilim and I especially enjoyed being able to get close to some of the birds that frequent the forests here. The mangrove tour is excellent for birdwatchers who want to see White-Breasted Eagles and Brahminy Kites.
Langkawi mangrove tour
Local Markets
After a refreshing swim and lunch back at Bon Ton, I packed my bags and headed off to Padang Matsirat near the airport. The Sunday night market here is not to be missed and, fortunately, it starts in the late afternoon, making it ideal timing for those with early evening flights.
While I noticed many tourists at the market, they are outnumbered by the locals who shop for fresh produce and many tempting and value-for-money treats.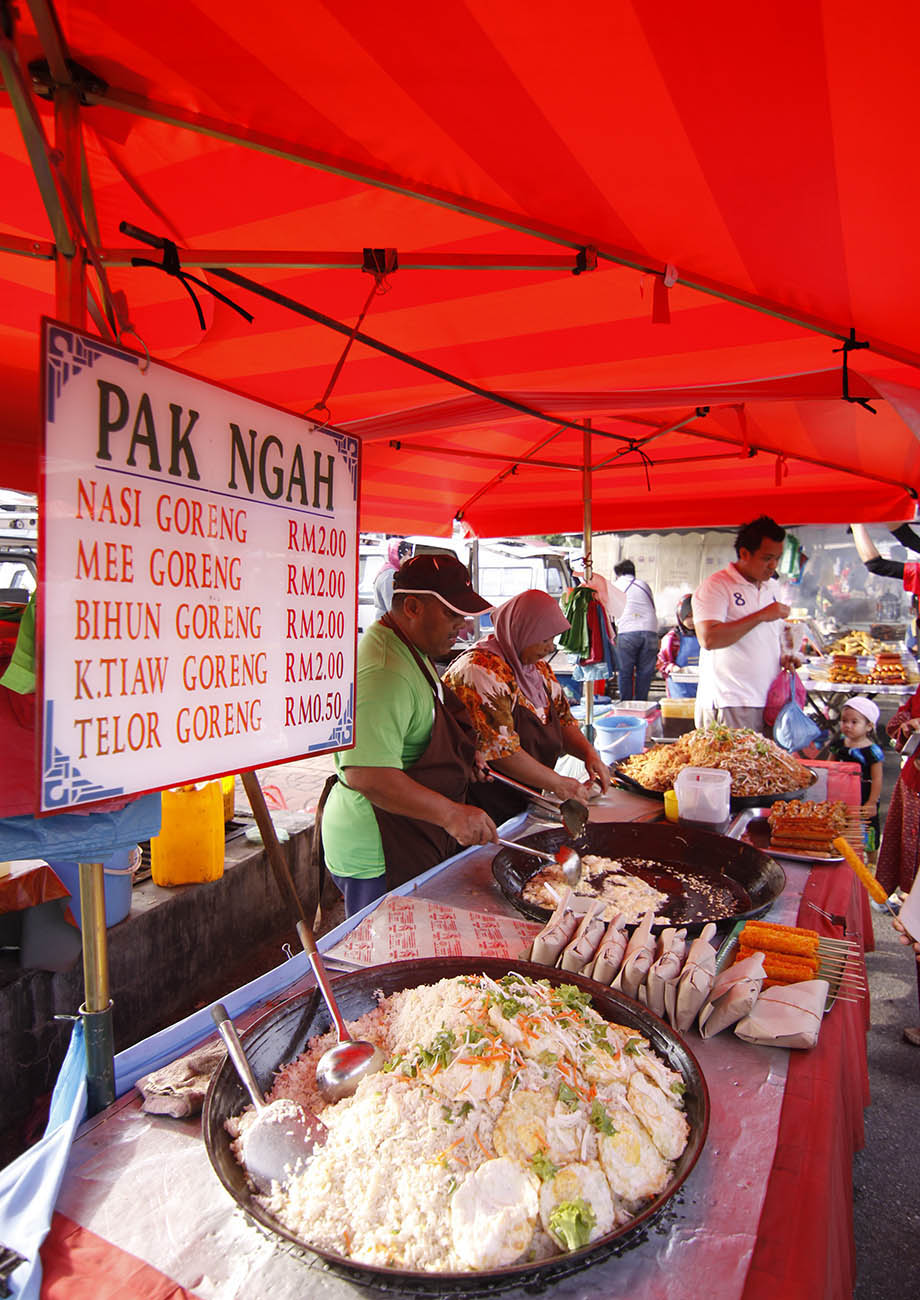 Padang Matsirat Night Market
After snacking, I headed to PL Soon Huat, a supermarket that also specialises in duty-free wine. I purchased a few bottles at great prices before heading to the airport.
Enchanted & Homeward
At the airport, I enjoyed a little more shopping especially for chocolates, which were very affordable there. From the departure board, I noticed planes departing for several destinations including Penang, Kuala Lumpur (both KLIA and Subang), and Singapore. I also saw that the WH Smith had copies of Enchanting Langkawi, a picture book of the island, which made a great souvenir of my memorable holiday in Langkawi.
[button icon="entypo-flight" url='https://www.expedia.com.sg/Cheap-Flights-To-Langkawi.d2062.Travel-Guide-Flights' fullwidth='true'] Flights to Langkawi [/button]