By Samantha Tan, on August 21, 2020
Family Staycation Guide: Tips and Value for Money Hotel Packages for a Fun-Filled Stay
Unsplash image by Leo Rivas
After months of being confined to home, the little ones are now demanding a vacation during the September school holidays. But with Covid-19 still lurking around in the community, is it really safe to bring your family out for a vacation, even without leaving the country?
While hotels in Singapore have pulled out all stops to safeguard the health and safety of their guests, many parents still have a whole host of concerns around bringing the little ones out at this point in the pandemic.
With questions such as 'how am I going to keep my kids from touching the surfaces while they are out', 'are the hotel rooms and amenities thoroughly cleaned before each use' and 'if we're going to be nervous about this, is going on a staycation now even worth our while' running through their minds, can parents still bring their families on a staycation safely without dampening the holiday mood?
To put your mind at ease, Expedia has put together 5 important tips to consider while planning for a fun-filled staycation with your family during the upcoming September school holidays.
Go for an SG Clean certified and staycation-approved property
Since last month, over 200 hotels have been approved to accept staycation bookings from local guests. With a wide variety of staycation packages offering perks such as early check-in, late check-out, daily breakfasts, dining credits, attraction tickets, kids activities and more, parents can be spoilt for choice with the myriad of choices on offer.
However, before hitting the button to confirm your staycation booking, check if your choice of hotel is an SG-Clean certified property. Hotels that are certified under the SG Clean scheme have passed through a seven-point checklist to ensure that the necessary healthy screening, safety and hygiene as well as contact tracing measures recommended by the Singapore government are in place to safeguard the health and safety of all guests.

Hotels certified under the SG Clean scheme will display the SG Clean logo on their website, listings and premises
To narrow down your search, Expedia recommends Mandarin Orchard Singapore's Family Staycation Package, where guests can enjoy daily breakfasts for 2 adults and 2 children, a room upgrade and dining vouchers. Alternatively, check out Hotel Michael at Resort World Sentosa's Indulgent Series Package, which comes bundled with S.E.A. Aquarium attraction tickets for 2 adults, complimentary breakfast and dining vouchers.
Choose a hotel that caters to your little ones
We all know what a mammoth feat it can be to bring your family out on a holiday while keeping everyone in the brood smiling, engaged, and entertained, as the adults enjoy some much-needed downtime. The great thing is many hotels in Singapore understand that too and are going the extra mile to make staycation extra special for you and your tots.
To take the stress of planning a family staycation off your shoulders, choose a hotel that caters to your little ones. From child-friendly beds and amenities to age-appropriate children's activities, to glorious pools that are perfect for splashing good times with your little ones, there are plenty of good options to consider that will give you more bang for the buck.
Buds – Bake Kitchen at Shangri-La Hotel Singapore (Photo courtesy of Shangri-La Hotel Singapore)
For a luxurious experience for the entire family, book a stay at Shangri-La Hotel Singapore. Offering spacious rooms for everyone to laze around in comfort, the hotel also takes pride in providing extra amenities for the little ones such as baby cots, step-up stools, bottle warmers and kid-friendly menus. You can also keep your young ones entertained all-day at Buds – an interactive play area spanning 1,800 square feet with activities such as baking classes, story-telling sessions and singing workshops; or the Splash Zone – a new outdoor water playground for kids to have a splashing fun time.
Make sure you are well-packed
With the little troops in tow, packing for a getaway – however short or long it may be – can be a daunting task for any parent. Before you feel compelled to pack everything, rest assured that most hotels are able to take care of the sleeping facilities, toiletries, food and drinks for young children.
To help take the load off your luggage, be sure to check the complimentary room amenities the hotel has to offer so you can focus on packing for your little ones' fun and comfort while leaving the rest in the hands of your hotel team. For a seamless booking experience, browse through a myriad of amazing hotel offers on the Expedia app which features a list of family-friendly amenities and services each hotel provides for your convenience.
Unsplash image by stilclassics
Steer clear of crowds
With much excitement in the air while on holiday, it is easy to get overly excited and forget the need to observe safe distancing and avoid the crowds. Apart from going on a staycation on off-peak periods such as weekdays instead of weekends, you can also head to hotels that are located at less-crowded parts of the island to have more space for you and your family.
Outdoor pool area at Equarius Hotel and Beach Villas (Photo by Expedia.com.sg)
For some peace and tranquillity, look no further than Equarius Hotel and Beach Villas at Resorts World Sentosa. Ensconced in lush greenery, both hotels offer staycation packages under its Indulgent series which come with 2 adult attraction tickets, complimentary breakfast, $50 dining credits and more.
If your kids are in for some soaking family fun, head down to the outdoor pool area between both hotels. Guests who opt for a two-bedroom Beach Villa will also have access to a private jacuzzi and outdoor patio located just inches away from the sea, perfect for watching the sunset in the evening.
Pre-book your slots for the hotel amenities
To make full use of your time at the hotel, remember to pre-book the amenities slots as soon as you can upon check-in. With various safe distancing measures in place, hotels have reduced the capacity of their amenities significantly to prevent over-crowding during this period of time. Be sure to check in with the hotel concierge on which are the best timings to go for breakfast without the crowds, visit the pool, or head to the gym, before confirming your booking.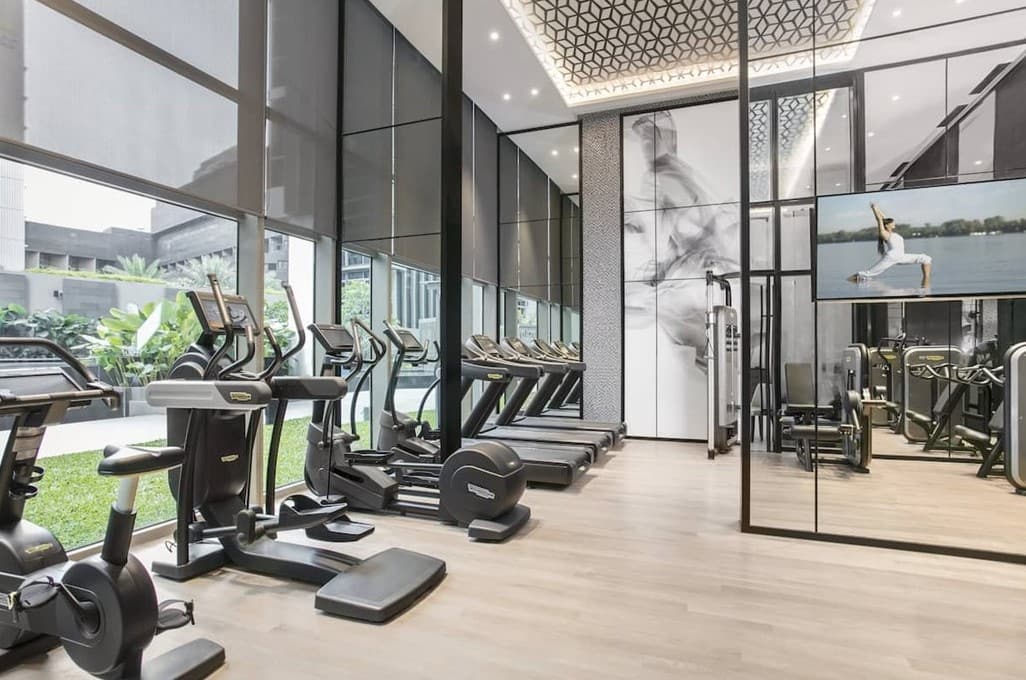 Gym facilities at Ascott Orchard (Photo by Expedia.com.sg)
Last but not least, don't forget to maximise your gains by making your staycation booking through the Expedia app. You can get double the rewards points for every booking made on the app, making it easier for you to chock up points that can be turned into actual savings on your next booking!
For more staycation inspiration, look out for the next edition of Expedia's Weekly Staycation Round-Up, or visit expedia.com.sg.